EARLIER: Prince William and Kate show support for Ukraine in visit
In a recent visit to the Ukrainian Cultural Centre in London on March 9, 2022, The Duke and Duchess of Cambridge have subtly shown UK's support for Ukraine amidst the country's ongoing war.
The couple donned blue colours and solidarity pins as they met with organisational volunteers working to assist Ukrainians through coordinating supplies to soldiers on the frontline of the war.
The purpose of the visit is for the Duke and Duchess of Cambridge to learn more about the the Cultural Centre's efforts to support Ukrainians living in the UK and across other parts of Europe as the war between Russia and Ukraine continues.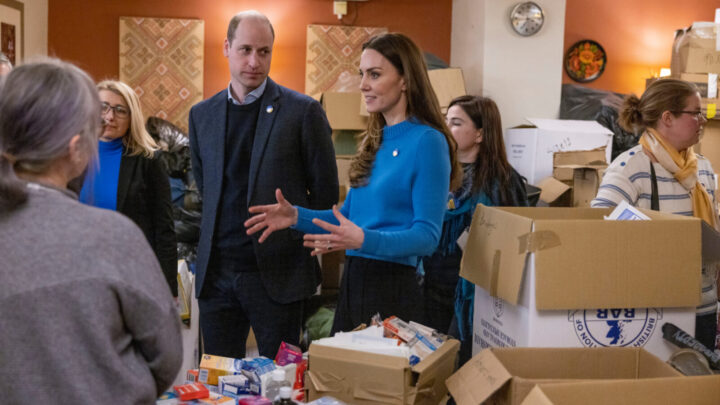 Kate and William admitted that their young children had been enquiring about the crisis in Ukraine, after returning home from school with newfound questions, likely picked up from their 'in the loop' schoolmates.
"Ours have been coming home asking all about it," said William, referring to his two eldest children.
"They are obviously talking about it with their friends at school."
William admitted he had to tread carefully in explaining the situation to them, likely to ensure his words weren't taken out of context in the school environment.
During their visit, the royal couple heard more about the organisation's services, and the incredible support they'd received in the form of an enormous number of donations. The couple were invited to join in with some of the sorting and packaging efforts of items being donated to the cause.
In true Kate style, The Duchess brought along home-made baked goods from Kensington Palace, made to perfection by the Duchess herself, to ensure the volunteers were well looked after during the couple's visit to the centre.
The British royal family continue to show their support for Ukraine, with the Prince of Wales and Duchess of Cornwall recently visiting the Ukrainian Catholic Cathedral where they lit a candle and laid sunflowers – Ukraine's national flower – in a moving tribute to the country.
The Duchess of Cornwall was reportedly left in tears during the service where Prince Charles was handed a sign saying "Stop Putin" from a young child.
 

View this post on Instagram

 
The Prince also met with Bishop Kenneth Nowakowski and Ukrainian ambassador Vadym Prystaiko and his wife, Inna Prystaiko as well as Ukrainian community leaders and volunteers assisting the humanitarian cause before addressing the congregation.
"I must say my wife and I have been deeply moved by everything we have heard today during our visit and above all by the extraordinary bravery, generosity and fortitude of the Ukrainian community in the face of such truly terrible aggression," said the Prince.
"So if I may say so, our thoughts and prayers, however inadequate they may be, are with all of you at this most critical time."
They later visited a Ukrainian school with their met with school children who sang them a touching song.