While the outfit shared an identical top, Kate's featured an off-the-shoulder design while Meghan's was strapless. The Duchess of Cambridge's outfit was also a gown whereas Meghan's was a jumpsuit by Gabriela Hearst.
Where Kate wore her hair down, pairing her red carpet ensemble with black pumps and a simple black clutch, Meghan opted for a sleek ponytail, completing her Hearst jumpsuit with strappy, open-toed heels from Aquazzura, and a red woven Bottega Veneta bag.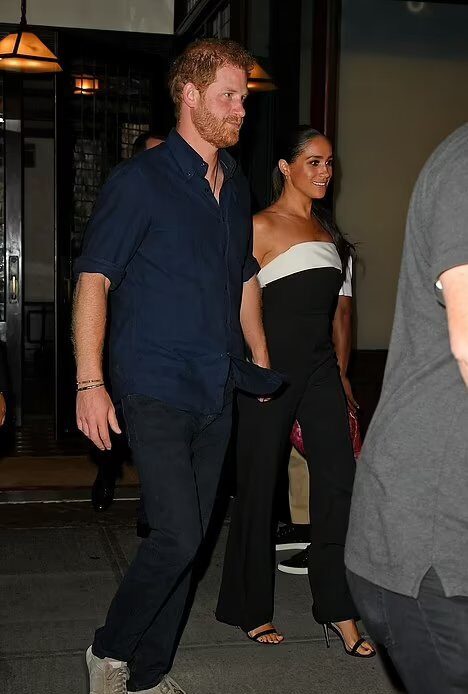 Kate meanwhile also wore gorgeous sparkling dangling earrings, while Meghan wore simple gold hoops huggies.
Both royal women, however, kept their make-up natural and rocked a subtle smokey eye look.
While Kate had also altered her Mouret gown, to be more modest as the original design featured a sheer, mesh, zip-down back, it is understood that Meghan had not made any alternations for her jumpsuit.
Though we know who wore it first, Twitter users have shared their own opinion on who wore it better.
Many have taken to sharing side-by-side images of the Duchess of Cambridge and Duchess of Sussex, with one user tweeting, "The difference between Class and Ass."
Some users were also less than kind with their thoughts on the twinning nature of the looks.
Queen Maxima wore a Danielson jumpsuit by Roland Mouret, the same designer of Kates's Top Gun gown, to the opening of the new season of Royal Concertgebouw Orchestra (RCO) at Concert Hall in Amsterdam. The jumpsuit, just like Kate's, features a white off-the-shoulder top that exposed her collarbones but had the same jumpsuit cut as that of Meghan.
This isn't the first time Kate and Meghan have been fashion doppelgängers. The International Business Times has even pointed out the multiple occasions that the Duchess of Sussex wore outfits that were a little too much like Kate's to be a coincidence.
But with Meghan and Kate sharing similar tastes when it comes to clothes and labels, it's likely this won't be the last time we see these two don the same look.