According to the 2017 documentary The Diana Story, it's said that when Diana passed away, her two sons were allowed to take a piece of jewellery for themselves. A then 15-year-old William chose his mother's gold Cartier Tank watch and a 12-year-old Harry decided on the sapphire engagement ring. However, in 2010 when William decided to propose to then-girlfriend Catherine, Prince Harry decided to swap the pieces of jewellery so that his brother could use it.
Aquamarine cocktail ring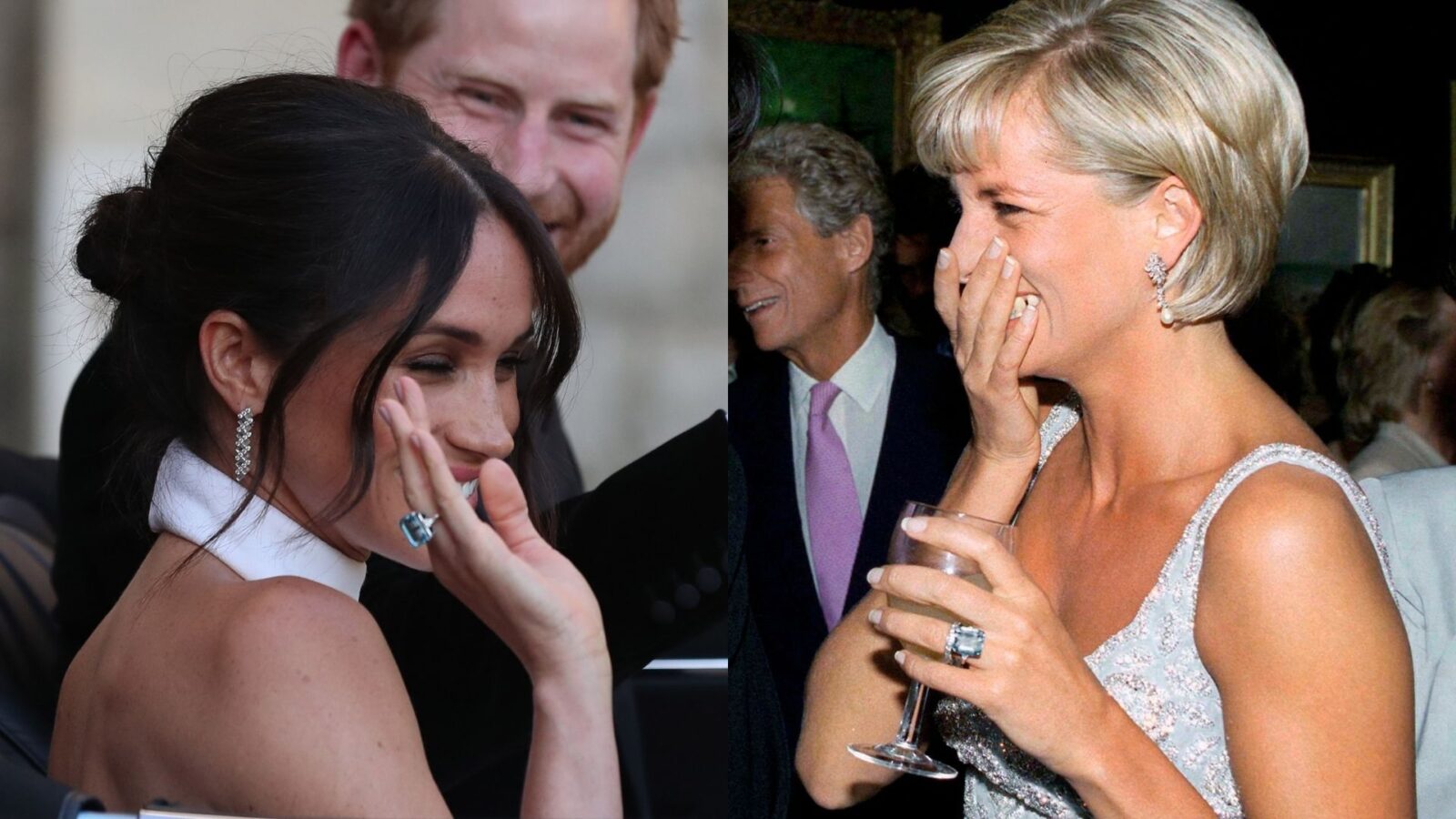 Directly after the wedding ceremony of the Duke and Duchess of Sussex, Meghan Markle stepped out in a stunning white Stella McCartney halter neck dress that was a quick change from her extravagant wedding gown – but that wasn't what everyone's eyes were glued to. Instead it was the massive aquamarine stone parked on her finger that once belonged to Princess Diana.
The cocktail ring was worn on a number of occasions by the late-princess including during her trip to Australia where she donned her famed electric blue, one shouldered dress that caught the eye everyone in the room.
Japanese pearl choker
This stunning statement piece has been passed down the line from Her Majesty The Queen herself all the way to the Duchess of Cambridge. Catherine was first seen wearing the four strand Japanese pearl choker with a central diamond clasp for the Queen's 70th birthday.
Meanwhile, the piece was originally commissioned by the Queen who wore it to a royal engagement in Bangladesh in 1983. The necklace even sat on Princess Diana's neck during the Dutch royal family's visit to the UK in 1982.
Cambridge Lover's Knot Tiara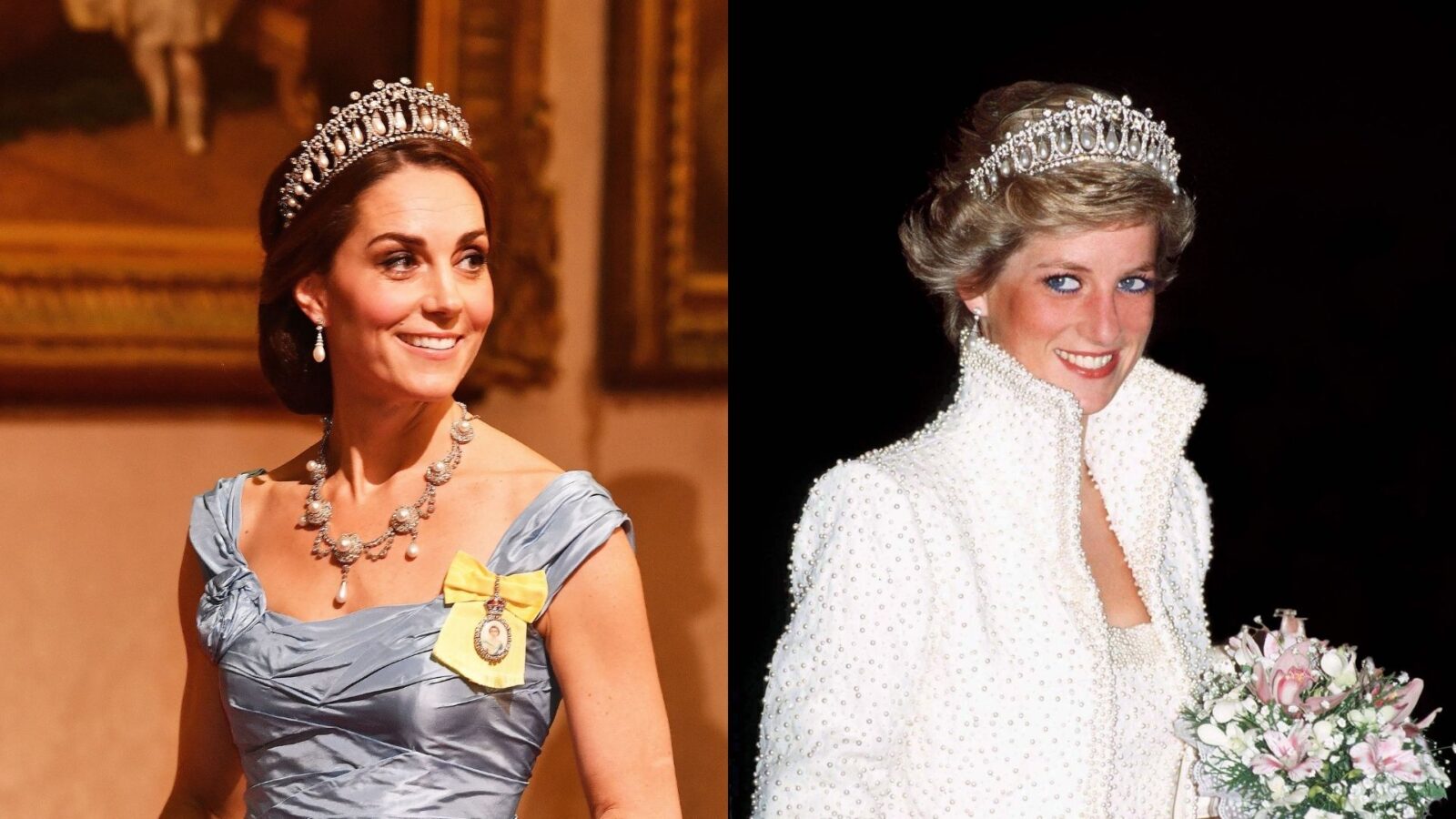 This sparkling heirloom has got to be one of the most iconic tiaras of the entire royal history. What was once a regular choice for Princess Diana has quickly become a go-to for the Duchess of Cambridge on the rare occasion when she does don a tiara.
Interestingly, although it's known as the Cambridge Lover's Knot, the diadem is actually a replica of the original that is thought to be held in a private collection. The replica was fashioned in 1914 for Queen Mary and has eventually made its way down the line.
Gold butterfly earrings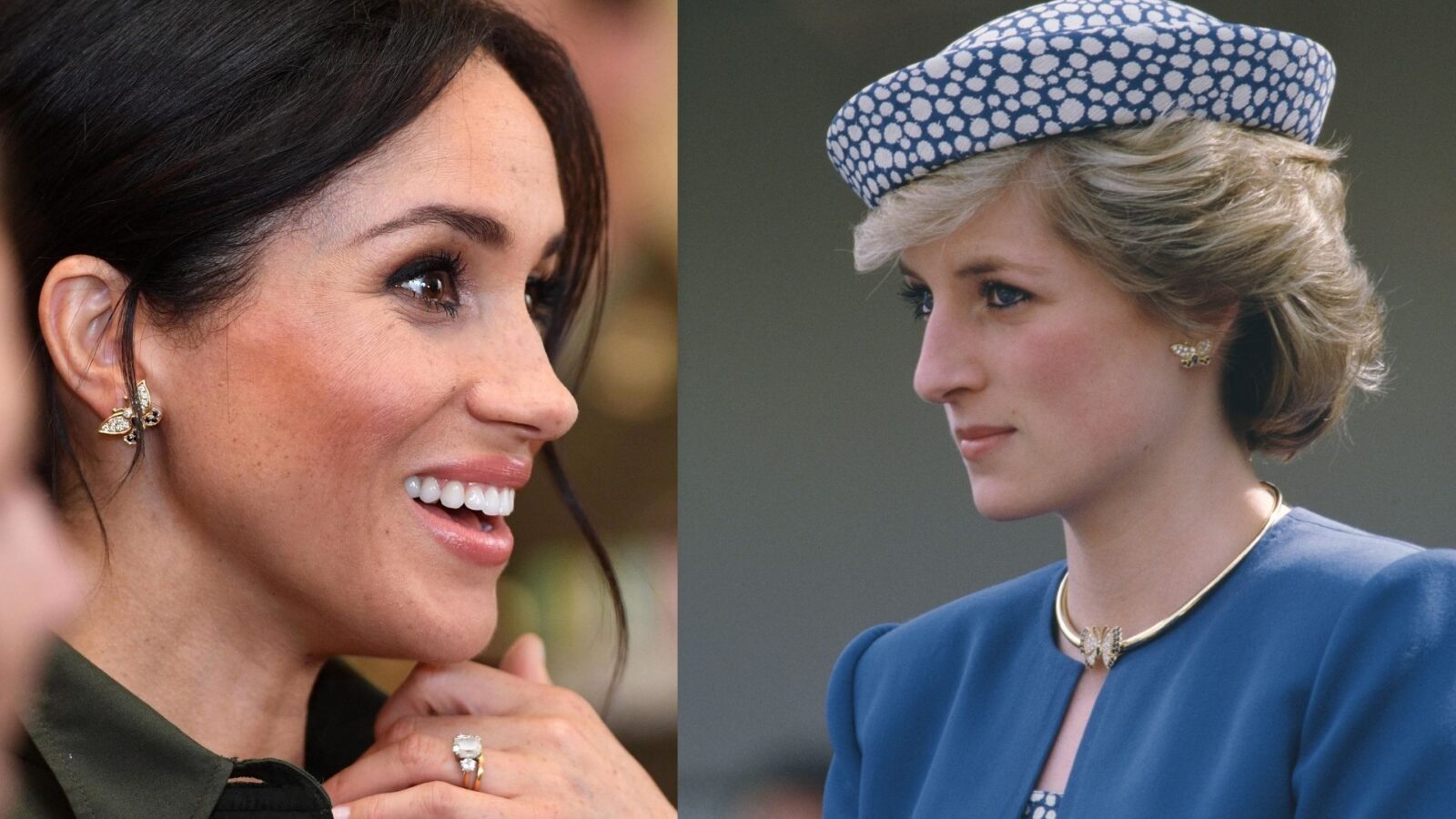 These sweet and dainty earrings were gifted to Meghan after originally belonging to Princess Diana. The Duchess of Sussex first wore the earrings on her visit to Australia for her first public appearance since the announcement of her pregnancy.
Princess Diana on the other hand wore them on a trip to Canada where she paired them with a matching simple gold-band necklace, which was finished with a gold butterfly fixed to the front.