Elsewhere, Hopkins criticises the new mum saying that Meghan "wears bad clothes", "is a no one" and is also the "biggest hypocrite there is". The promo then touches on the backlash Meghan and Prince Harry recently copped after taking two private jet trips in one week.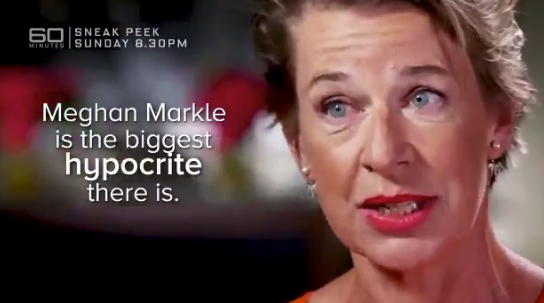 Many on Twitter have since slammed the segment, with American actress Mia Farrow leading the way: "With all due respect – this smug racist babble is appalling, idiotic, distressing and disgusting. Shame on you for airing this trash. – Great Britain is fortunate to have this intelligent, compassionate, beautiful woman in the Royal Family. In her, Prince Harry has found happiness and for that we rejoice."
Meanwhile, another social media user wrote: "I wouldn't say that Meghan has lost her sparkle. She is still adored by so many people. We still love her very much. Meghan, Harry and Archie are very popular and that popularity will likely increase with their upcoming tour. This is just a case of someone starting trouble."
Others called for the story to be pulled, with one writing: "You're gonna pull this story, right? You've got a few days left before it's meant to go to air, so just trash it instead." Another added: "Every single person involved in producing this travesty should be fired, and an extremely detailed and lengthy public apology is due. This is loathsome. You should be ashamed that anyone affiliated with your name had anything to do with this."
However, others have applauded 60 Minutes' efforts, with one commenting: "Someone needs to put her in her place now and tell her she's part of the royal institution and funded by the people, so start 'acting' the part you signed up for!" Another added: "Diana was a kind soul that cared about people. Markle is a climber that only cares about herself and her trajectory."
https://twitter.com/60Mins/status/1169180802871177218
Meanwhile, Hopkins has also stirred the pot and shared a preview clip of the upcoming episode, with the caption: "Meghan Markle – with her private jets and squillion dollar baby showers is the biggest hypocrite there is."
In recent months Meghan and Harry have been at the wrong end of public criticism. The couple faced backlash from severals popular tabloids for using private jets for trips with their son Archie last month. However, singer and their good friend Elton John defended the couple at the time.
Posting on Twitter, Elton revealed he, not taxpayers paid for their trip to Nice in the south of France and compared the backlash to the "press intrusion" which led to Princess Diana's "untimely death". "I am deeply distressed by today's distorted and malicious account in the press surrounding the Duke and Duchess of Sussex's private stay at my home in Nice last week," he wrote.
Meanwhile, the couple also copped criticism earlier this year for keeping details of son Archie's birth and christening private. The decision to remain private about the baby's christening is a stark difference to the Duke and Duchess of Cambridge who invited the media to the christening of all three of their children Prince George, Princess Charlotte and Prince Louis. The doting parents were also photographed outside of the hospital where the children were born shortly after their arrival – a royal tradition Prince Harry and Meghan also broke.