During the warrants, the AFP arrested four men and one woman for their alleged involvement, who were all refused bail at Central Local Court on Wednesday. While an additional man was arrested and charged with separate fraudulent offences.
"Police inquiries identified a syndicate allegedly operating across three companies to defraud the NDIS," the AFP said in a statement on Thursday. "Police will allege that once the payments from the NDIS claims were received by the syndicate, an amount went back into the pockets of the company operators."
It is alleged the companies were operated by a 34-year-old man and 30-year-old woman from Lidcombe and a 32-year-old Monterey man. While a 22-year-old Merrylands man was engaged to withdraw cash from approved claims on their behalf. A fifth member, a 24-year-old man from Granville, was paid at least $40,000 to set up a bank account in his name to facilitate one company's claims.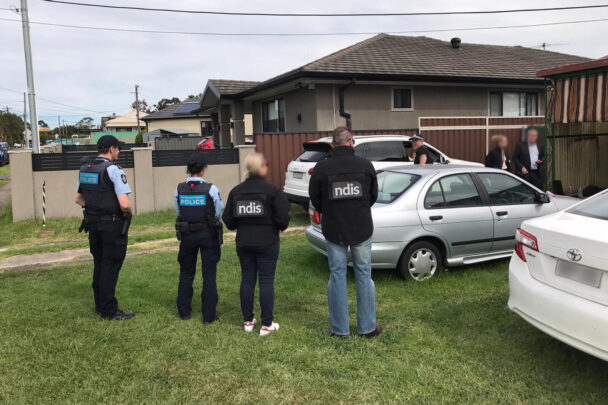 The companies allegedly submitted claims on behalf of NDIS participants, increasing the value of whatever service was required and pocketing the difference. For example, if a person needed assistance cleaning, the company would submit a claim for two hours, but only organise an hour.
AFP Commander Kirsty Schofield said there was an ongoing investigation into this fraud syndicate with police expecting to make further arrests.
"Money is the key driver for this alleged fraud syndicate. There is no thought or care given to Australians who have legitimate disabilities and are in need of the assistance provided through the National Disability Insurance Scheme," she said.
"Millions of dollars have allegedly been stolen by this criminal syndicate. Funds that have allegedly been spent on flashy vehicles when they could have been redirected to help other NDIS participants, like your mother, grandfather, sister or neighbour."
Mel Woodburn, National Disability Insurance Agency (NDIA) Chief Risk Officer said the agency remained committed to preventing and detecting fraud against the NDIS, and most importantly to protecting all participants.
"The NDIA is monitoring this type of behaviour, and we continue our investment in intelligence, data analytics and other compliance measures to build our capability to detect and respond to fraud," she said. "One dollar fraudulently obtained is one dollar that isn't received by those for whom it was intended – our participants."
The alleged company owners were charged with dishonestly causing a loss to the NDIA, by enrolling participants into the NDIS using false documents and claiming for services that police allege were not delivered to those participants. The 34-year-olds offences totalled over $1.9 million, while the 30-year-old Lidcombe woman was charged with the same offences to the value of over $1.2 million. The 32-year-old Monterey man was charged with causing a loss of $6,800, while attempting to cause a loss to the NDIA totalling over $60,000.
The 24-year-old South Granville man and a 22-year-old Merrylands man were charged with dealing with proceeds of crime, while a 37-year-old French national was also identified as a person of interest in relation to other fraudulent activity against the NDIA to a value of $31,798. He was given police bail and is expected to appear before court at a later date.
Operation Pegasus was launched in December 2020 to investigate several suspected fraudulent NDIS providers based in Western Sydney. The operation was run by AFP, in partnership with the National Disability Insurance Agency (NDIA), AUSTRAC (Australian Transaction Reports and Analysis Centre) and Services Australia.