Kerri-Anne commented after host Kyle Sandilands cheekily asked the television presenter whether she liked showing off her rear on social media.
"Are you doing a lot of those bikini shots where the girls are sitting with their bum to the camera looking over their shoulder trying to make their bum look as big as possible?" he asked. "It's what the girls are doing these days."
"I don't have to actually make it look big," Kerri-Anne bantered back.
You'll probably remember Sir Mix-a-Lot's homage to the fuller behind, the 1992 hit song 'Baby Got Back' but it wasn't until Kim Kardashian emerged as a reality TV star that a full-blown obsession with oversized bums really started.
Kerri-Anne, however, is not the only one perplexed by the trend, which overturned decades of efforts by woman to reduce the size of their behind. American columnist Jessica Renae from Peaceful Dumpling, wrote that the big butt trend is was from 'body positive'.
"Mistakenly it's assumed that the media's changing image of women from thin to thick is body-positive and inclusive," she wrote in 2014. "While I am all for embracing different body types, the big butt trend is not even close to body-positivity; it's actually body-shaming."
Kerri-Anne, however, knows how to make a bold statement without showing off her buttocks.
The media personality had plenty of eyes on her this month at the Melbourne Cup in a custom-made turquoise floral frock, which featured statement frilly sleeves and a contrasting monochrome belt.
She finished off the show-stopping number with an elaborate matching fascinator, a blue bag and gold pointed heels. Allowing her flamboyant outfit to do the talking, Kerri-Anne wore her blonde locks out straight.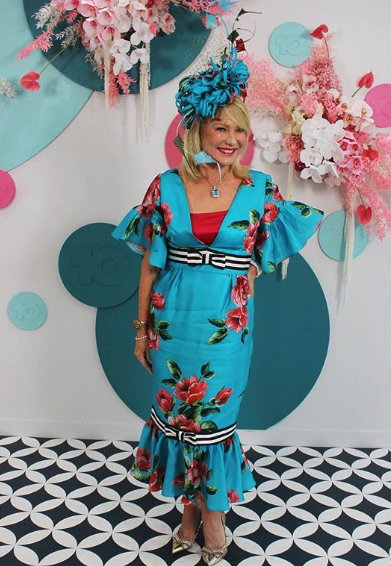 In fact, Kerri-Anne has mastered the skill of using a vibrant outfit to ensure she catches the limelight, as she did at a star-studded event in Sydney earlier this year. The Studio 10 star turned back time in a retro-style outfit, ensuring all eyes were on her as she posed up a storm in front of the camera.
Wearing a bedazzled, multi-coloured floral jacket, matched with wide flared black pants and a sequined handbag, she successfully channeled classic '70s vibes for the bash.