"People always say to me at least once a day, 'I love your hair'. It even happened to me once in an elevator in New York!" laughs Bev. "Coloured hair is a really great ice-breaker and conversation starter – and a brilliant way to meet new people."
 

View this post on Instagram

 
Bev gets her zany mane re-dyed every 3 or 4 months (pandemic allowing!); paying around $280-300 for a cut and colour. In between, she uses $6 wash-in colour sachets from the chemist – a more affordable option for anyone wanting to dip their toe in the water before taking the plunge.
"When I see a sea of grey hair with short back and sides, I think it looks a bit daggy," confides Bev. "I don't need to stand out but I don't want to be invisible either. When you age, you can become invisible to the world.
"Even if you have no money, always make sure you have great hair and a great coat, I always say."
Adds another long-term colour convert Jacqui Lee, a Starts at 60 community blogger, from Gippsland, New South Wales:
"I can't stand all those simple styles that I 'should have' at my age. I'd rather stand out in a crowd. With bright hair, you look at someone and you smile, instead of feeling miserable."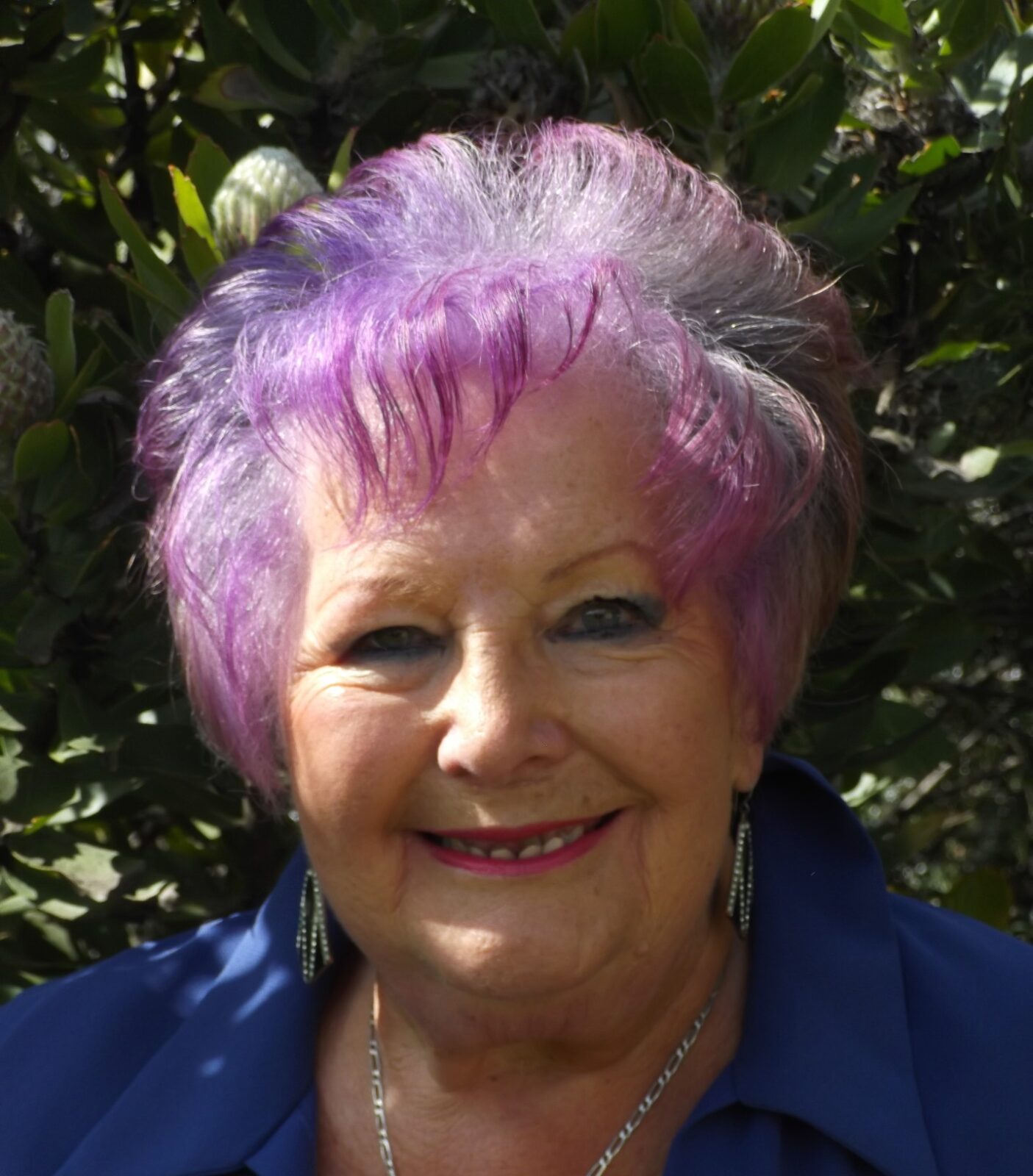 Jacqui's short-ish crowning glory has been all colours of the rainbow over the years, she says, but these days, she mostly settles on purple or lilac as the most flattering shades for her complexion and the easiest to maintain between trips to the hairdressers.
"I have made some mistakes over the years," Jacqui confesses. "Reds are not for me. I look ghastly with red hair."
Meanwhile, Anya Goy, a hair stylist from Guernsey who specialises in creating rainbow hair makeovers, told Starts at 60 that she has "many older clients who enjoy creative colours".
"Some older clients come in confident and with a clear idea of what they want but most are a little unsure at first," reveals Anya.
"They love the look but are concerned about being 'too old' for it. I usually do something more subtle and temporary for the first appointment to ease them in. But they ALWAYS come back saying how much they (and everyone around them) loved it!"
"Comments I often hear from customers are… 'it brings everyone so much joy'; 'It makes me smile when I catch my reflection' and … 'can we go brighter this time?'"
"Recently, we had a pair of 60-plus sisters who came in for their appointment together and they were giggling like teenagers."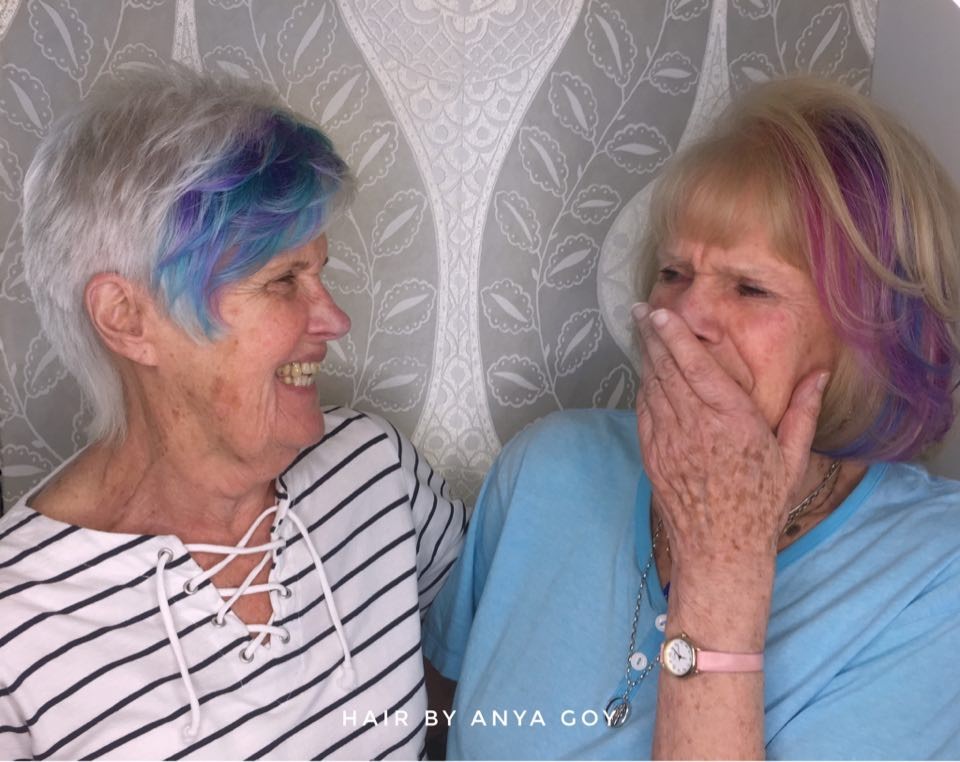 Have we convinced you to step outside your comfort zone? If so, here's our best advice on how to join the bold hair gang, with a mix of great tips and colour inspiration from professional hairstylists and some of the Starts at 60 community who've proudly gone "older and bolder":
Easy does it!
Feeling nervous? Start gradually with just a few sections, maybe the sides to judge if you like the effect. You can also experiment cheaply first before you go all the way by picking up some hair crayons at the chemist – or temporary colour sachets and shampoos – and having some fun that will come out after a few washes if you don't like it.
Just dip your tips
Another less scary way to add a little colour to your life? Only dye the bottom tips of your hair as a test run. If you love it, you can gradually add more at your own pace. Hate it? A quick snip, and it'll be gone, without the expense of a colour remover.
 

View this post on Instagram

 
Talk to a hairdresser first to work out what suits you
Pinks and purples are great for fair hair and fair complexions. If you have more olivey skin and darker hair, blue and greens often work well. You can choose to go for the trendy bright colours like red, purple, or blue. But as a general rule, the brighter punchier colours can sometimes wash out your face depending on your skin tone – and you might find yourself having to wear more make-up to balance things out.
Go for a fringe benefit
 

View this post on Instagram

 
Inject some high-impact drama to white or fair hair with a fun colour blocked fringe. You'll look super fashionable at the same time. Purple is a great fringe choice: it fades gracefully into silver and white locks.
Have twice the fun with two-tone hair
 

View this post on Instagram

 
Be the coolest gran in the neighbourhood by flaunting not just one fun colour, but two! Two-toned hair looks really modern, especially with the dip-dye technique. If you have darker hair, you can opt for a darker shade at the roots and dip the ends into a lovely jewel-toned teal for some youthful energy.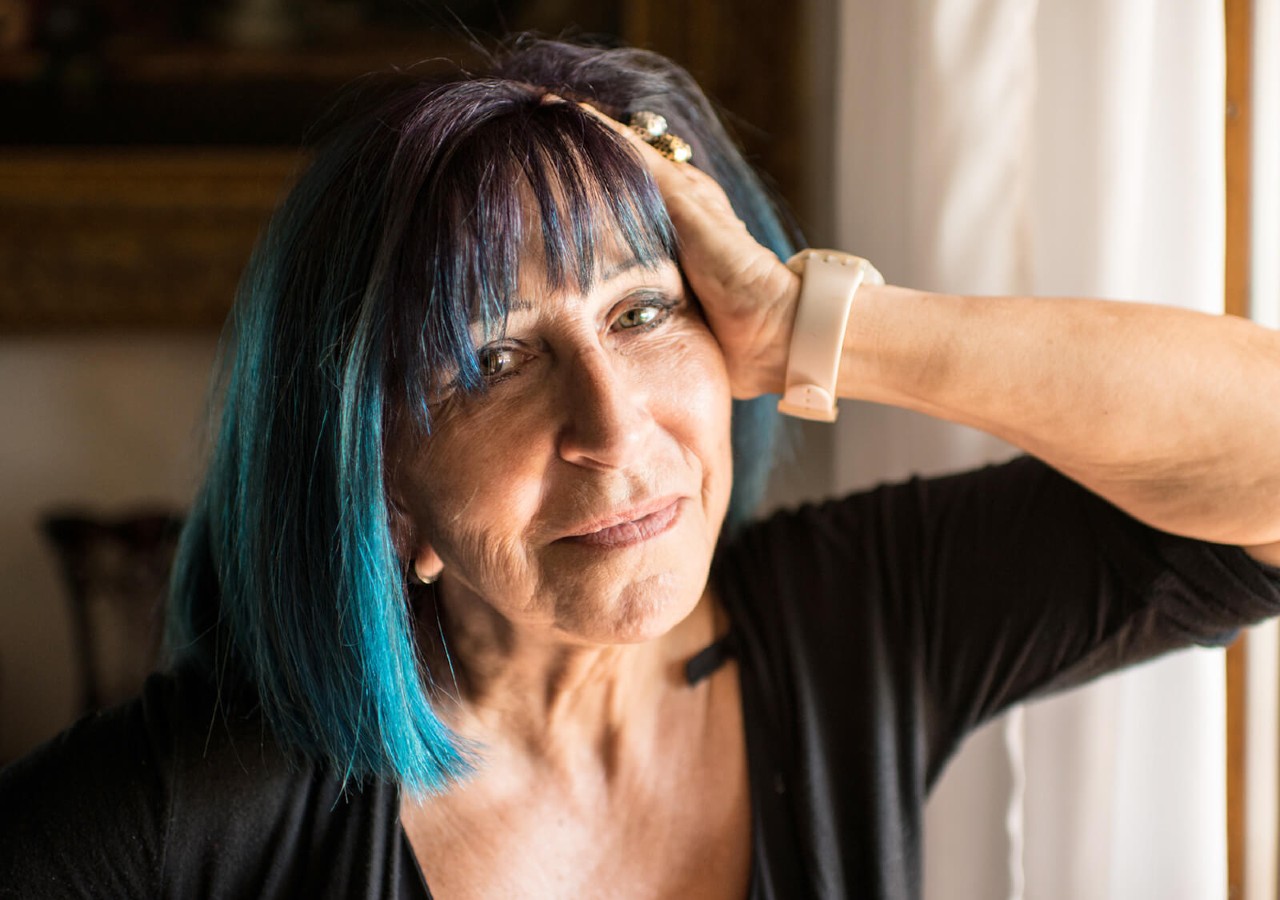 Turn down the volume
Not all unicorn hair has to scream "Look at Me". Dilute the effect with some more gentle pastel shades like this lovely dusty pink. It'll still be enough of an image change to stand out from the pack.
 

View this post on Instagram

 
Dusty mauves are also a good choice if you don't want to go super bold but still want to play around with more vibrant colour. Tell your hairdresser to dilute the formula with a little silver.
Spotlight your curls
 

View this post on Instagram

 
Curls can look amazing when showcased with sections of contrasting bright colour to really make them pop. Magenta, violet and red are three shades that work wonderfully together; turning your crowning glory into a perfect symphony!
Create a red just for you
 

View this post on Instagram

 
Redheads always make an entrance but the dramatic colour isn't for everyone. It can be too much for lighter complexions. Ask your hairdresser to play around a little and introduce some pastel into the red palette to find a red that's just right for you. Diluted colours will fade faster though, so do keep that in mind.
Make life peachy for summer
 

View this post on Instagram

 
Get inspired by one of our favourite summer fruits. Peach is a natural but striking colour that works a treat for revving up natural redheads.
Split the difference
 

View this post on Instagram

 
Perhaps you're not ready to say goodbye to your natural colour completely? You can always leave one side natural and only dye the other. It will really help the colour jump out even more!
And don't forget your eyebrows!
Be sure to also pay attention to your eyebrows. As we age, they thin out and can become very pale. So you need to put some colour back on your brows to go with your bold new hair. Nothing over the top – but with bright hair and no eyebrows, your face can look blank and tired.
Now for a final bit of follicular fun…
From Diane Keaton and Jane Fonda, to Meryl and Michelle Obama, take a peek at what some of our much-loved older stars and celebs would look with a creative colour hair makeover.