As you head into the retirement village maze you have several options.
Retirement village housing or ILUs
Lifestyle Resort style housing with a potential rental model
Services Apartments
or higher needs care like Aged Care and Home Care services.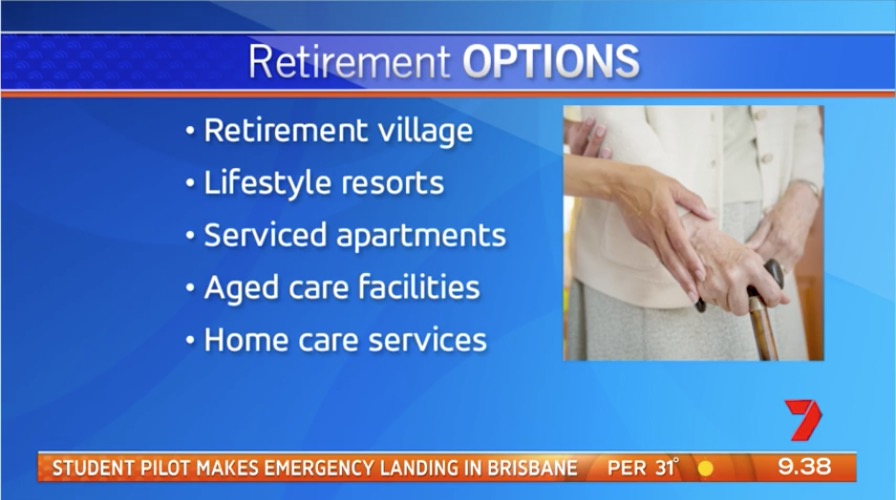 1. Your life stage
This important factor shouldn't be confused with your age. After all, we're at different stages of life at different ages. Some people move into retirement villages as soon as they retire in their 60s, some wait until they're in their 70s after they've travelled. Either way, your life stage is an important consideration when moving into a retirement village. If you have an active lifestyle, then you need to consider a village that caters for that. Look for villages with lots of activities and facilities such as gyms and pools where you can still keep your active lifestyle. If your lifestyle is less active, consider a village that has less activities. In an article recently penned by Bina Brown, director of aged care placement company Third Age Matters, she writes that people who enter a village later in their life are often paying high maintenance fees for facilities they barely use because of their age and health. Your health is another area you should consider. If your health is in good shape, than a more independent living village will probably be better for you. But if you have increasing health problems, particularly issues that effect your mobility or require assistance, then there are some things to consider.
The Property Council of Australia suggests you ask the following questions surrounding your health before choosing a retirement village:
What services and facilities can I access within the village on a regular basis?

What assistance is on site if I have a fall or become ill?

If my needs change, will I be able to continue living in the village independently?
It's in considering that your life stage that should look at the costs of living in a retirement village and whether you can afford the financial obligations that come with it. Different retirement villages have different financial models, which can come with varying upfront costs. There are also ongoing fees that are paid at different intervals for things such as maintenance and staffing. Before choosing a retirement village, you should look closely at the costs and work out whether you can afford it.
If you're active, think about things such as gardens or lawns. If you like to travel, think about whether there is an option of parking your caravan or camping trailer on site.
Read more: Things you should look out for before moving into a retirement village
2.  The goals of your big move
Before moving to a retirement village, you need to think about the goals of the move. Whether your move is a sea change or a tree change, or you want to move to live with like-minded people, now is the time to think about it. These are things you should have in mind when you select a retirement village. One of the biggest things is location. Ask yourself, where do I want to live? Do you want to live in a quiet leafy suburb? A village with a real community vibe? Or an inner city retirement high rise? Then there are the types of villages. Whether you want to live in a retirement village with supported living or a retirement village with a focus on independent living is another question you need to take into account. You also need to ask yourself whether moving to a retirement village will bring you closer to family or closer to facilities and services such as doctors and public transport. It's important to make sure your move matches your goals for retirement living.
Read more: Questions you should ask before moving into a retirement village
3. The options available to you
When it comes to retirement villages there are a world of options available to you, depending on where you choose to live and what you can afford. We've discussed the location options. But generally closer to the main capital cities you get, the more options you have when it comes to retirement living. But what about the financial models? According to Bina Brown, there are three main financial models used by retirement villages in Australia.
Outright ownership. This is where you have the title over the unit or house you live in.
Loan licence model.  The loan licence model is where the bulk of the money you're putting in set up as loan to the operator of the village, who gives you a licence to occupy the unit.
Leasehold or sublease model. This model provides you with a long team lease, which is registered on the Certificate of Title for the land owned by the village.
Once you get your head around these financial models, you can work out what suits your finances and what the best option is for you.
You should also look at the lifestyle and community options available to you. Often we hear from readers who live in retirement villages that some of the best aspects of their retirement living is the community. In many retirement villages you can participate in a range of activities from taking classes such as yoga or crafts to building relationships with your neighbours and joining resident's groups.
How did you plan for moving into a retirement village?
DOWNLOAD THE STARTS AT 60 RETIREMENT VILLAGE CHECKLIST CLICK HERE.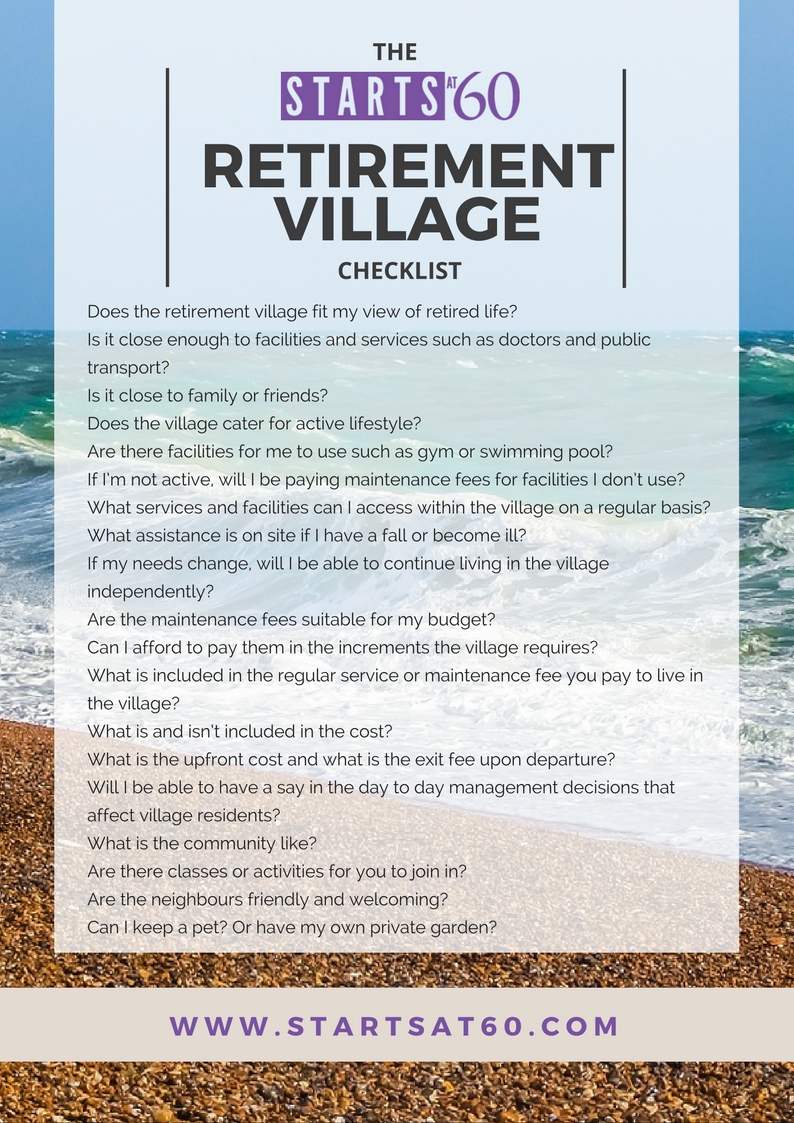 IMPORTANT LEGAL INFO This article is of a general nature and FYI only, because it doesn't take into account your financial or legal situation, objectives or needs. That means it's not financial product or legal advice and shouldn't be relied upon as if it is. Before making a financial or legal decision, you should work out if the info is appropriate for your situation and get independent, licensed financial services or legal advice.