Rod Sims, ACCC chair, said that shopping at cheaper fuel stations doesn't mean forgoing quality.
"The range of petrol prices available to most Australian motorists means the potential savings from filling up at one of the cheaper retailers are very significant," he said. "We often hear that all petrol prices are the same but this report shows that people living in capital cities do have choice about where they get their fuel, and how much they pay for it.
"Consumers should bear in mind that regular unleaded petrol sold in Australia typically comes from the same refineries or import terminals, and there are minimum quality standards that all retailers are required to adhere to. This means that motorists are getting petrol of a similar quality regardless of where they fill up."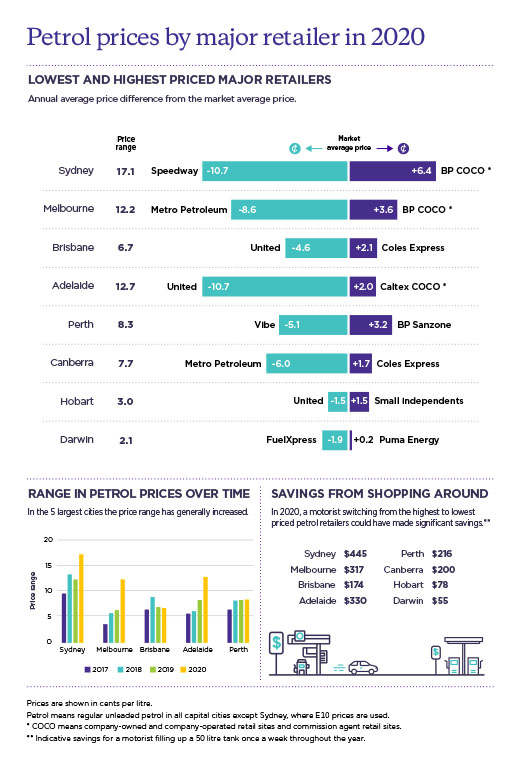 So where should you buy in your city?
Sims said luckily, in most capital cities, the competition is fierce meaning most motorists wouldn't have to go far to find a cheaper independent option.
"While price is undoubtedly the biggest influence on consumers' decision about where to buy petrol, it's important to acknowledge that factors such as location, type of fuel sold, the ability to use discount vouchers, and convenience store offerings all play a part as well," he said.
"People who choose to buy petrol at one location because it suits their needs can continue exercising their consumer choice. But we want Australians to know that there is a range of petrol retailers out there with different offerings, including cheaper petrol."
The consumer watchdog said of all the petrol retailers, the most expensive across the board were the major players, which refine and sell wholesale petrol, as well as selling it at the retail level. These include Coles Express (where Viva Energy sets prices) in Brisbane and Canberra, BP (for those service stations that are company-owned and operated) in Sydney and Melbourne, and Caltex (for those service stations that are company-owned and operated) in Adelaide.
For Sydney residents, Speedway was the best option, while petrol giant BP should be avoided by both Sydney-siders and Melbournians as it had the most expensive prices in the two largest cities.
Melbourne and Canberra residents were both better off if they choose to refuel at Metro.
Meanwhile, United was the winning choice for Brisbane and Adelaide. Brisbane and Canberra residents should choose to avoid Coles Express (i.e. Viva Energy) to save at the pump, while Adelaide motorists would be better off without topping up at Caltex.
Perth residents should opt to fuel up at Vibe while avoiding BP Sanzone, which has high costs, while Darwin residents should go to FuelXpress for the best price and avoid Puma Energy, which was the most costly.
IMPORTANT LEGAL INFO This article is of a general nature and FYI only, because it doesn't take into account your financial or legal situation, objectives or needs. That means it's not financial product or legal advice and shouldn't be relied upon as if it is. Before making a financial or legal decision, you should work out if the info is appropriate for your situation and get independent, licensed financial services or legal advice.