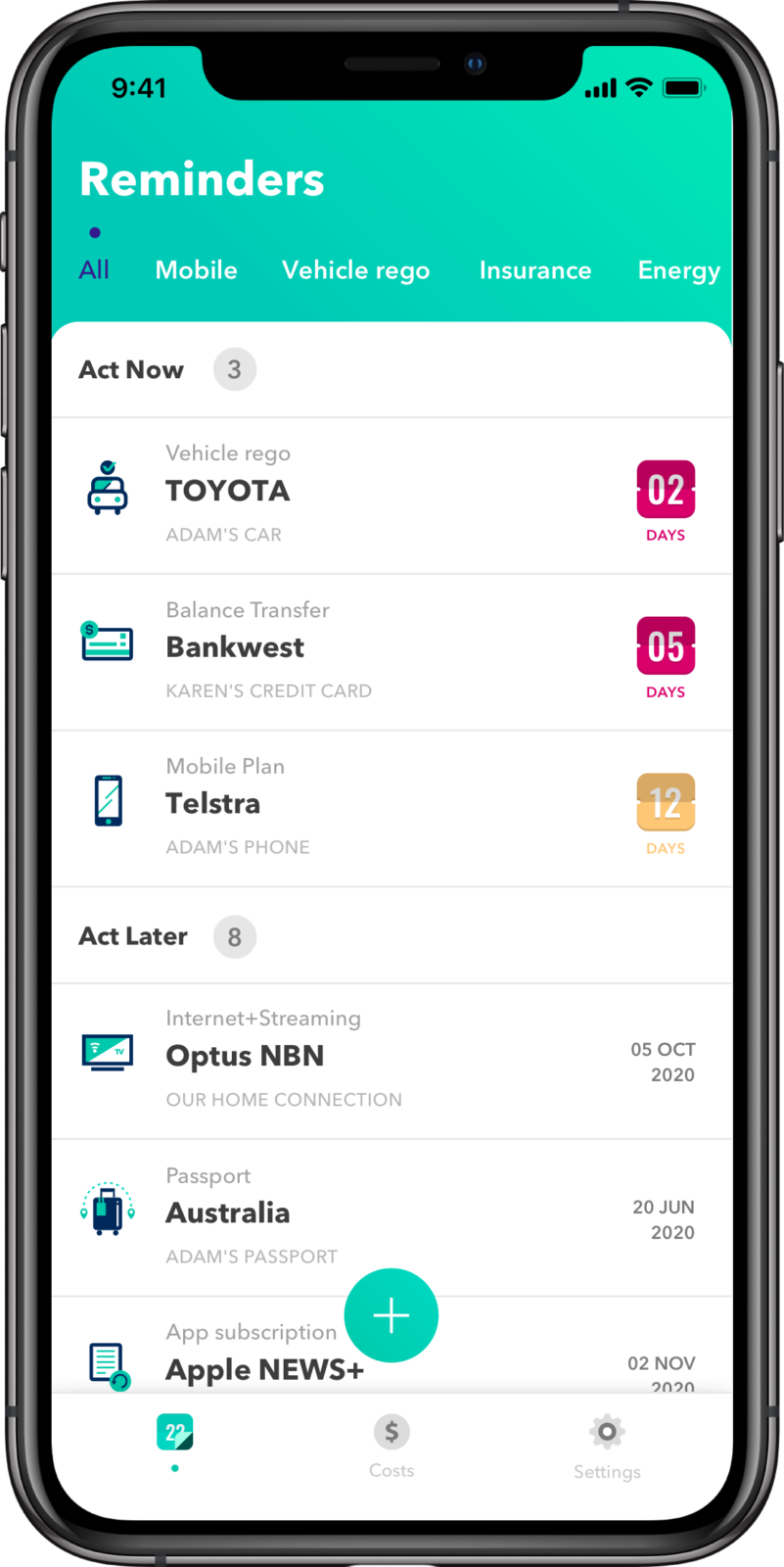 GetReminded co-founder Sijle Dreyer says that with an average expenditure of $14,000 a year on home-related bills, Australians could save themselves around $3,000 simply by shopping around for different plans. This is something that Dreyer only came to understand when she found out how much she was overpaying for her mobile contract without even realising.
"Companies used to be more prone to call you if your contract expired but at the moment, unfortunately, we say that customer service is now the responsibility of the customer," Dreyer says. "If you don't make sure you check your contracts every year than you could be missing out on really great offers and you're probably overpaying."
The app focusses on long-term reminders for regular payments such as loans, insurances, car registration, subscriptions, energy bills and mobile contracts. Once you have organised each payment into its respective category, notifications will not only ensure you're up to date, but it will also act as a reminder to do a quick shop around before you renew with your regular provider.
The thought of entering in every account and payment might seem like a lot of work but including all outgoings in one place can make yearly budgeting a whole lot easier as you are able to see just where your money is being used, or in some cases, going to waste.
Dreyer says that regular bills are often the ones that people become complacent about, including smaller payments such as streaming services like Netflix and online subscriptions for media sites.
"People might find they use it for a while then they forget about it and we end up paying thousands of dollars for these subscriptions that we don't always use," she says. "With a reminder on your phone, you might find that you could take a break and come back to it when you want to use it again."
According to Dreyer, Australians pay for an average of three subscriptions, with three in five people paying for a subscription that they don't use – and this can include app subscriptions themselves. Gym memberships are another bank account drain that Aussies tend to overlook. Dreyer estimates these unused subscriptions cost their forgetful owners about $40 a month.
And because it can require quite a bit of paperwork and time on the phone to change mortgage and mobile phone provider, those are two bills that Aussies may be tempted to set and forget.
Meanwhile, energy bills are usually a big expense – the average Australian household pays $1,384 a year before GST for energy – so are a prime place to look if you want to cut down on costs.
Comparison sites such as Canstar or Finder are a great way to check whether if you're getting the best bang for your buck on common bills and subscriptions (as well as on your bank accounts and other financial products), and the government also has several official websites that allow you to compare providers' offers.
These sites include Energy Made Easy, which compares electricity and gas providers on their yearly prices, as well as additional fees such as those for memberships and late payments. And the Commonwealth Ombudsman runs PrivateHealth.gov.au, which compares private health insurance policies in detail.
So, with the new year approaching, there are plenty of ways to take control of your cost of living!
IMPORTANT LEGAL INFO This article is of a general nature and FYI only, because it doesn't take into account your financial or legal situation, objectives or needs. That means it's not financial product or legal advice and shouldn't be relied upon as if it is. Before making a financial or legal decision, you should work out if the info is appropriate for your situation and get independent, licensed financial services or legal advice.