She was seen chatting to Prince Charles throughout, flashing a huge smile as they watched the ceremony. The centuries-old ritual is carried out to formalise the reign of the new emperor and they were joined there by several royals and dignitaries from around the world.
Later that evening Mary swapped into a show-stopping light pink ball gown with a sparkly panel across her chest and ending in a huge cape behind her. She coupled it with an intricate tiara and wore her hair tied back in an elegant up do for the occasion.
Prince Frederik looked every bit the part too, matching Prince Charles in a black military-style suit and red sash as he posed beside his wife. The danish royals' Instagram page shared a series of photos online, writing: "Emperor Naruhito was presented with the imperial regalia [earlier in the day], attended by, among others, the Crown Prince and King[s] from all over Europe as well as heads of state and government from several countries."
Other guests included King Felipe VI and Queen Letizia of Spain, and King Willem-Alexander and Queen Maxima of the Netherlands. Charles was there to represent his mother the Queen, while Mary and Frederik represented Queen Margrethe II of Denmark.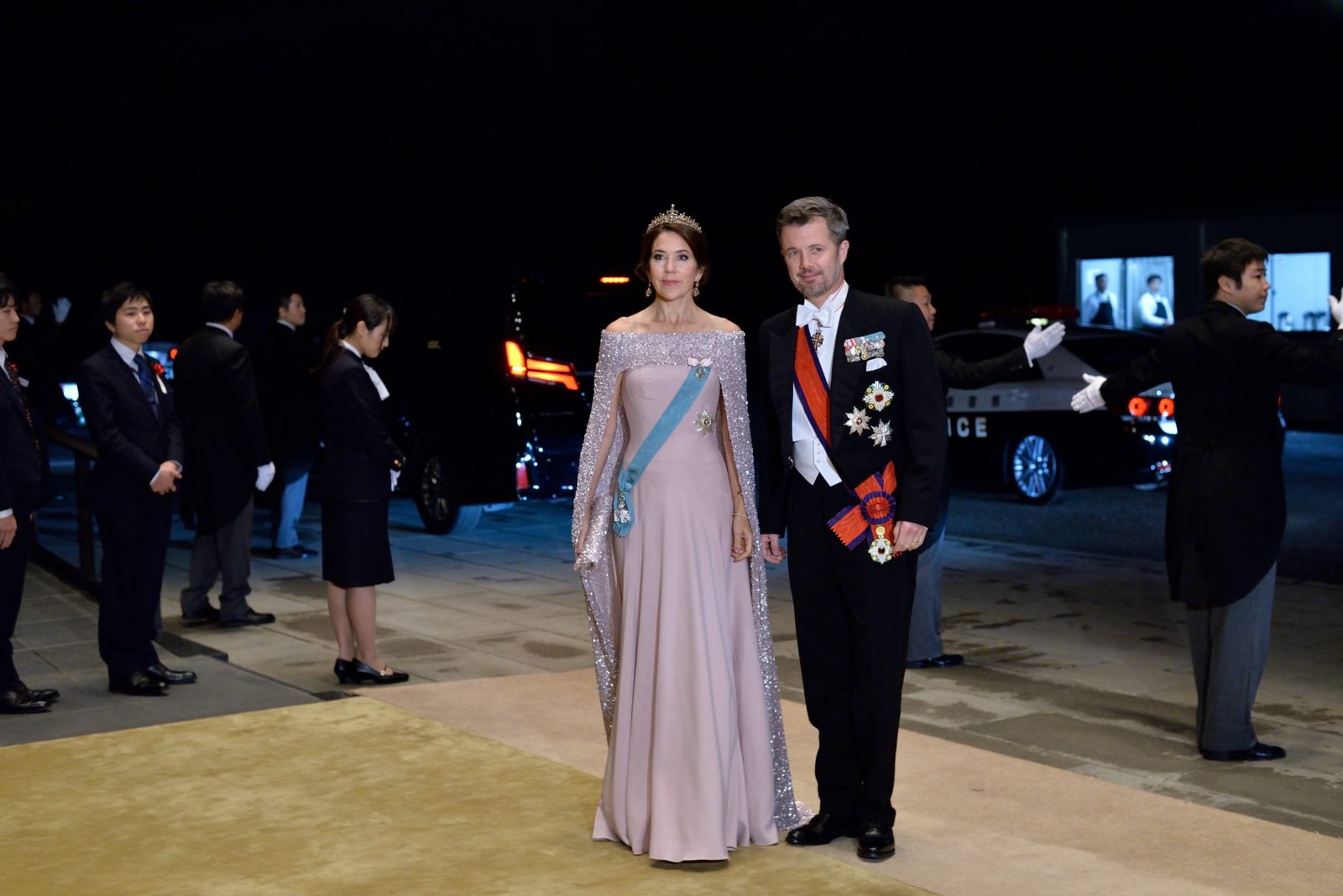 It comes weeks after Mary, who was born in Tasmania, was made regent of Denmark and will therefore be called on to step into Margrethe's shoes when she is "prevented from doing so". She posed with her husband and Margrethe herself as they signed the papers making it official at the time. It will make Mary the first Australian-born queen.
In a similar way to Queen Elizabeth, Margrethe, 79,  is slowly beginning to hand over the reins to other members of the royal family – just like the British Queen is doing with her son Prince Charles and grandsons Prince William and Harry.
Mary's husband Frederik, his brother Prince Joachim, and the Queen's sister Princess Benedikte can also take on the responsibilities of monarch while Margrethe is unable to. Alongside the photo of them signing the papers, the royal family wrote in a lengthy caption: "Her Majesty The Queen has today endorsed the Council of State that Her Royal Highness the Crown Princess [from today] can be deployed as the head of state."
They added: "The Crown Princess will in future be able to fulfil the Queen's obligations as head of state, when the Queen is prevented from doing so, for example when staying abroad. Today, the Queen's obligations as head of state can be fulfilled by the Crown Prince as regent or by your Royal Highnesses Prince Joachim and Princess Benedikte as the king's rulers."