The 20-year-old won her second gold medal on Wednesday, beating out Ledecky for the second time in a blistering 200m freestyle win. The medal brings Australia's tally to six with the women's and men's rowing team also securing the gold on day 5 of the Games. The hat-trick of medals takes Australia to fifth on the gold tally board.
Each athlete who takes home a gold medal in Tokyo will be celebrated with a gold medallist stamp, which will be produced within 72 hours of the medal ceremony taking place.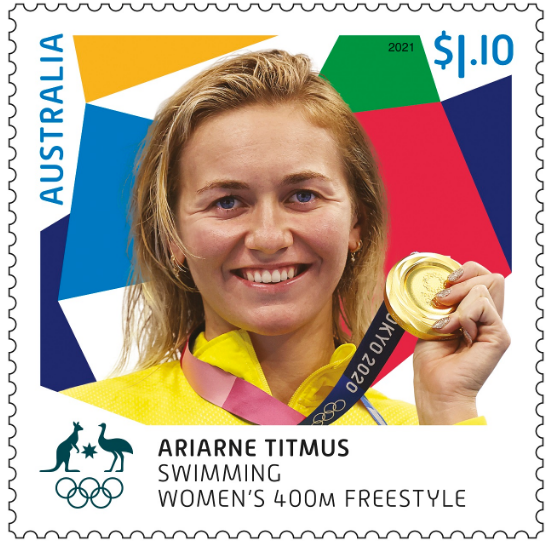 It's not the first time Australia Post has commemorated our incredible Olympians, with the postal organisation becoming the first in the world to produce instant stamps for the Sydney 2000 Olympics and then went on to produce stamps that featured athletes from both Summer and Winter Olympic Games.
Olympic champion Chloe Esposito OAM, who claimed Australia's first medal in modern pentathlon at the Rio 2016 Olympic Games, said the stamps were a great way to capture the biggest moments in our sporting history. "Winning an Olympic gold medal is the pinnacle of any athlete's career and the Australian Gold Medallist Stamps capture these important moments in our sporting history," she said. "Of course, the stamps are a wonderful keepsake for the athletes, but they also allow every Australian to celebrate and be proud of these achievements."
Nicole Sheffield, Australia Post executive general manager community and consumer said the stamp program recognises the hard work and success of our athletes and provides the public with an opportunity to connect with this year's Olympic Games. "These Games are unlike any other in history, and we're proud to be able to recognise our Olympians in this way and help Australians celebrate these remarkable athletes who are representing their country and performing at their peak," she said.
The women's relay team stamps will be available from Wednesday 28 July, while stocks last. Titmus' stamp will be available from Thursday, July 29. The stamps will be available in participating Post Offices, via mail order on 1800 331 794, and online while stocks last.