On the Starts at 60 Marketplace you'll find a wide range of gifts for the little ones, from traditional wooden toys to gorgeous tea sets and some fun games you can play with them over the festive season. You can view all the products here, but to make things easier we've selected our top 10!
Jewellery box
If you were a "girly girl" growing up, you probably watched your mum getting ready in the morning and choosing her jewellery for the day. From the gold necklaces to the sparkling rings, it's a dream of many young girls to have their own collection one day.
And it always begins with getting their own jewellery box – preferably one that plays music. The Lil Princess Music Jewellery Box is a gorgeous pick, with two small compartments for their necklaces and earrings, along with a little princess who spins around when they open it up. The box itself is pink and purple, with a beautiful design on top and a small mirror inside.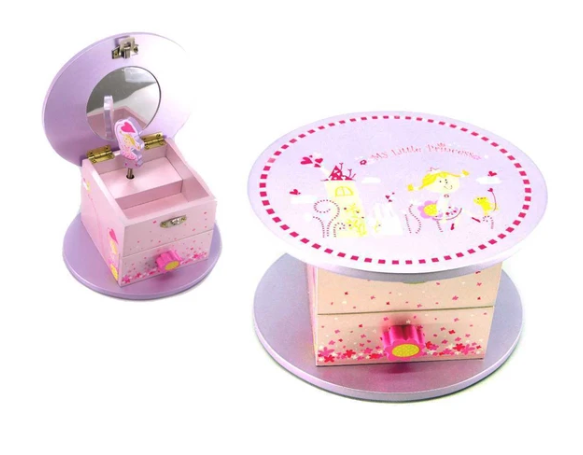 Tea set
Get ready for plenty of fun afternoon teas with the grandkids this festive season, courtesy of the beautiful Bear Porcelain Tea Set. Just like you have your China tea set for special occasions, they can have their own too, with little cups, saucers, a milk jug and a carry case to keep them protected. Each of the pieces has a lovely bear family printed on the outside, to make it truly special.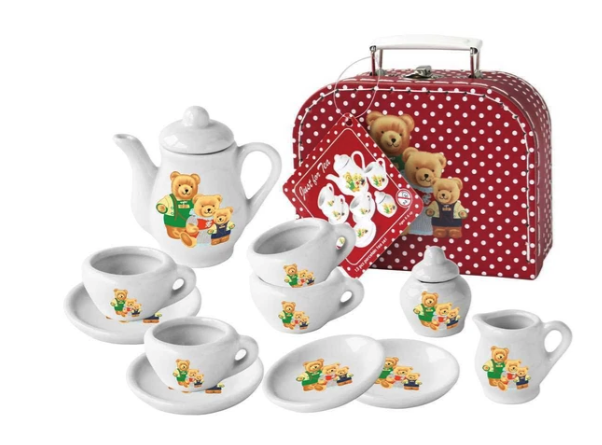 Racing track
Racing cars are an all-time favourite for many as they grow up, and for good reason, as they're loads of fun! While most cars these days are made from plastic, the traditional wooden ones are just as sturdy and sure to last a long time. On the Starts at 60 Marketplace you'll find the 2 in 1 Racing Track and Pounding game. It comes with both a gliding car set and a hammer and ball game, providing kids with hours of fun. It's also great for their hand and eye coordination!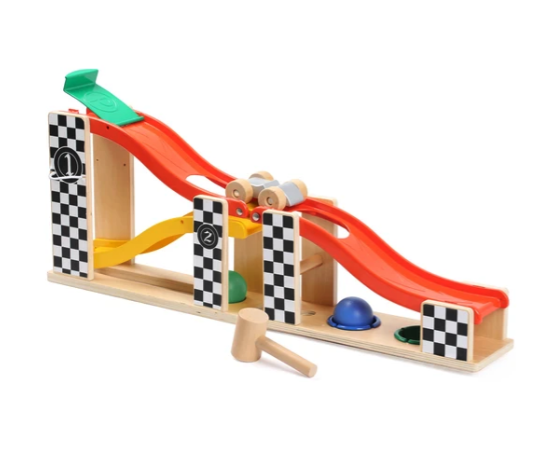 DIY canvas bag
For those crafty grandkids, you can't go past the Owl Canvas Bag. It's a DIY set to help them create their own lovely bag from different coloured fabrics and wool. There are step-by-step instructions to make the process easier, everything is cut to shape, and it even comes with a plastic needle, meaning you don't have to buy anything extra. So next time you're knitting a scarf, crocheting a blanket or sewing some clothes for the grandkids, they can be creating something for themselves as well.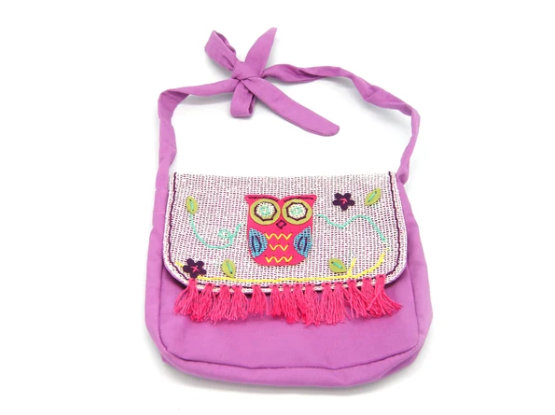 Animal stacking tower
You can never have too many toys to help babies develop those fine motor skills, and the Animal Stacking Tower is a great example of this. It's made from a combination of wood and plastic and is a simple and fun toy to get them thinking and learning. With bright colours for different blocks, it also helps with colour recognition in those early years.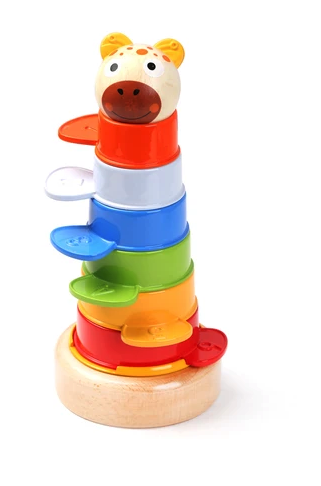 Elephant shape sorter
Another cute and educational toy on offer for the little ones is the Elephant Shape Sorter. Children can learn all about shapes and colours with this wonderful box, working to place the triangles, stars and circles through the cut-outs on the side. It's a simple toy, but one that is sure to help develop their skills as they grow.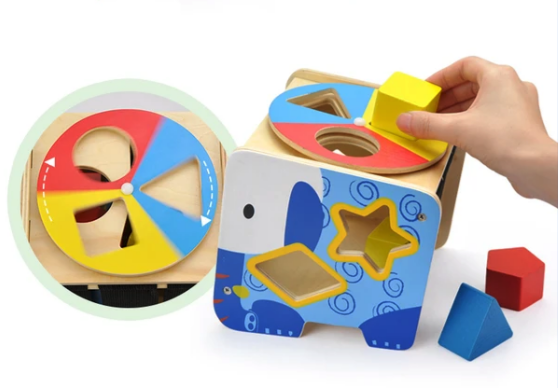 Noah's Ark playset
Many kids are told the story of Noah's Ark growing up and now there's a toy that can help bring that to life in their playtime as well. The Noah's Ark playset is new and improved, with children able to stack the animals inside the boat through cut-out shapes. It's both a fun activity and a great way to improve their fine motor skills from a young age.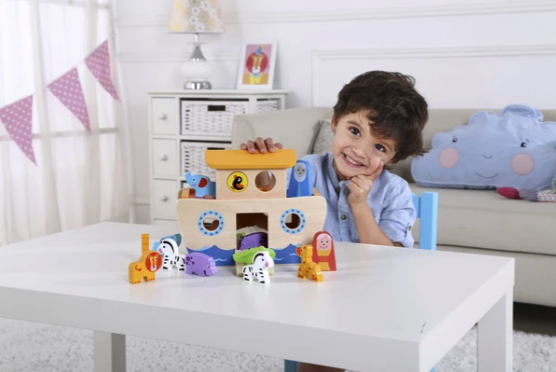 Dessert stand
Sure you'll be digging into mouth-watering desserts on Christmas Day, but your grandchild might want to set up their own special tea party for you to enjoy as well! If they already have their own tea set, the three-tier Dessert Stand is a great addition. The wooden set includes beautifully crafted dessert items that replicate real-life food. They can pretend to give you a tasty cup of tea as well as a delicious treat – it will make the perfect afternoon!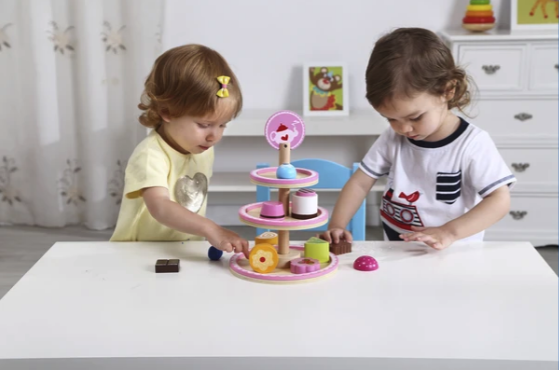 Police station playset
Lots of little kids dream of becoming a police officer one day and helping to protect their communities. And with the Wooden Police Station Play Set  they can experience many different scenarios, as it comes complete with a helicopter, police car, policemen and other wooden figurines. Not only is it a fun toy, but it may help develop your grandchild's social skills, development, creativity, problem solving and – most importantly – fine motor skills.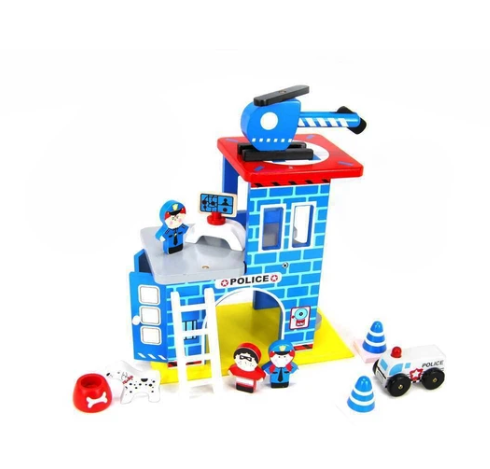 Noughts and crosses
After enjoying a big festive feast on Christmas Day, many families love to get out the games to play together and have a laugh. And you can't go past the 3D X-O. It's a twist on the traditional noughts and crosses, with many more ways to win the game. It's a perfect way to challenge both yourself and the grandkids while having some fun.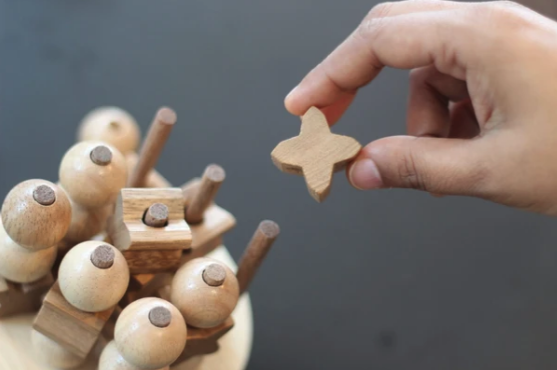 IMPORTANT INFO We write about products and services we think you might like and may receive payment if you click on the links in this article or go on to make a purchase.