She only became ready to actually date again three years ago – several years after her husband died – and explained she initially met someone through work. Recalling their first coffee date she said: "He was straight down the line and said, 'I want a sexual relationship with you'. I thought, 'Okay, that's not what I had in mind'. I had no idea if I could even get into bed with a man again… I think I was probably 71 at that stage.
Read more: 'I signed up for online dating and met a man called the Phantom Beast'
"We tried but he suffered from ED (erectile dysfunction) and I found, 20 years after menopause, that my body was just closed up and no juice and all that sort of thing!"
As some shocked audience members laughed, she added: "Let's face it, ladies! I went to a specialist and he just gave me oestrogen cream and that got my body going again. My nipples were standing to attention! So when we tried again and had a test run, I was fine but he wasn't."
'He had my grandfather's Y-fronts on!'
She wasn't the only one to be left red-faced in the bedroom, as Sonia Crystella, 62, shared her own awkward memory. She told the audience she had been married three times, with her last marriage ending 12 years ago. She has since spent a lot of money signing up to two dating agencies.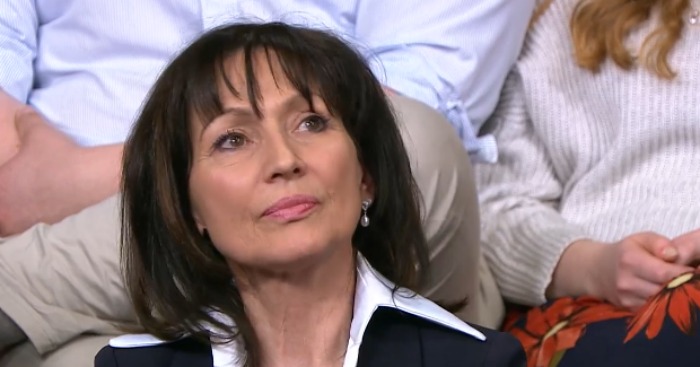 Recalling one incident she experienced, she said it had brought back a memory of seeing her grandparents' clothes line and explained: "When this man took his pants off he had my grandfather's long baggy Y-fronts on. And that was a deal breaker."
'I'm dating six different women'
Another brave man to share his story was corporate speaker and theatre critic Ron Lee, in his sixties, who revealed he is currently dating six different women.
He has been married twice before – something he told the show has made him more selective of women now. 
Ron explained that the women he dates now are usually between 50 and 55. Asked why he didn't want to reveal his exact age, Ron said: "Because I don't really want to attract women who want to date somebody my age… I don't have the attitude of somebody over 60, and I certainly don't behave like somebody over 60."
Meanwhile, asked if he's had any surprises while online dating, Ron recalled speaking to one woman who described her body type as "average", but he said: "I met her and thought 'I don't believe that is average'" – earning him some shocked looks from women in the audience.
'Tomcatting around the Blue Mountains'
Elsewhere on the show, grandmother of five, Carole Lethbridge, said she had been married four times by the time she was in her mid-40s – before eventually giving online dating a go in her mid-60s.
Having suffered an illness following her failed marriages, she moved from Sydney to the Blue Mountains and once there she tried online dating. Within days, the "man of her dreams" arrived on her profile. However, around seven months in, he began only seeing her on week days and she eventually discovered through a friend that he'd been cheating and continuing to online date.
"It turned out he'd had four other profiles and had been tomcatting around the Blue Mountains! I don't know how because half the time he couldn't get it up anyway," she joked.
In a shocking twist, after confronting him about his infidelity, Carole was standing at the station one day when a woman began talking to her and mentioned that she was seeing someone who "was only free on weekends" – which she immediately worked out was the very same man.
Admitting she believes in "last chance love", Carole thinks her chance has now gone and added: "I don't think many men sit around fantasising about 74-year-old women."
Asked if sex is important to her however, Carole said: "Yes, it was important. I've probably had sex, not every day of my life for 50, 60 years, but almost."
'You have to live, I mean, you're not dead'
Also joining the stage was widow Jim Peters, 79, who bravely admitted he had started dating again just a few months ago – his first time taking a new woman out since he was 20. He was married for 50 years and when his wife died five years ago he thought he'd stay single forever.
However, a few years later after their dogs died, he decided the quieter life wasn't for him, so he joined an online dating site. He told the show's host he's now looking for a well-travelled, intelligent lady between the age of 65 and 75.
"You have to live, I mean, you're not dead," he insisted.
Insight: Dating After 60 airs on SBS at 8.30pm on Tuesday, October 9.
Have you had any memorable experiences while online dating?