"Luke got up, unzipped and ran out the door of the camper and he saw that a dingo had him by the back of the neck and was dragging him off into the bush."
Luke added: "I just ran, I didn't think. When I got there the dingo has got him by the back of the head and pulling him into the bush.
"He sees me, he's looked back down, done a quick more of a dash back. I swore and I yelled very loudly. He did [drop him] I picked him up but realised there was a lot of blood."
Luke said that while his son was screaming in pain, he was "happy" that Hunter was crying as it meant he was still alive. The shaken father then returned to the campsite, while Sarah woke her mother Shaurne up to call the emergency services.
Sarah's mum then dialled 000 to call for help, with her harrowing emergency call played out on the show as the grandmother told the operator "the baby's dying".
She told 60 Minutes: "Absolutely I thought he was [dying]. As soon as I saw there was blood dripping off my hand, it was just pouring everything. I honestly thought, by the state of the child, that, yeah."
"We'll need an ambulance, a helicopter, the baby's dying," she can be heard telling the operator. "It's all really wet through with blood."
Read more: Horror as baby is dragged from campervan by a dingo on Fraser Island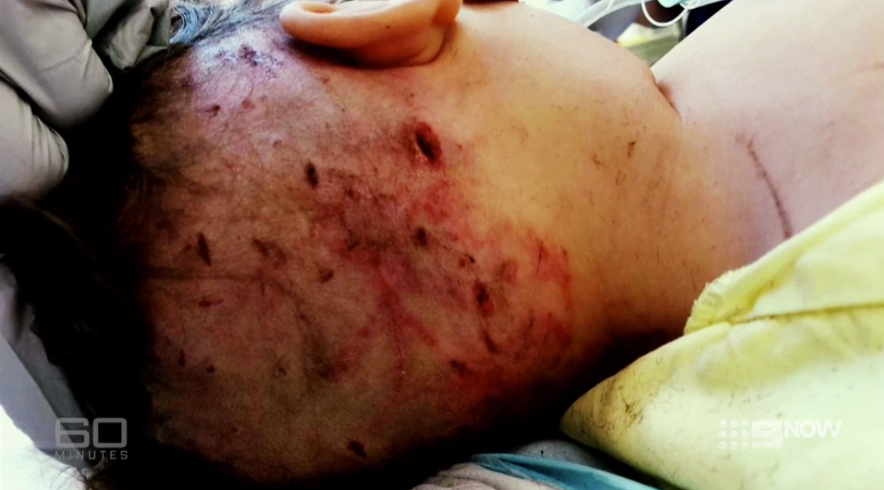 Despite Luke saving Hunter from the ordeal, the father-of-two then found himself surrounded by a pack of dingoes as they waited for emergency services to arrive, with Luke believing they had returned to reclaim his badly injured son.
"That's when a pack of them circled me and they were getting more cocky," he said. "They were getting closer."
Read more: Parents of toddler attacked by dingo break silence on son's condition
Hunter has thankfully recovered from his injuries, with the baby boy left with just several small scars beneath his hair on the back of his head.
The brutal attack was the third so far this year at Fraser Island.
What are your thoughts on this story? Have you ever visited Fraser Island?