"I try to make her walk short distances where possible and when possible, though she does fatigue easily and quickly (As a matter of fact, she's spent most of the afternoon in bed since our visit to the shop)," the young mother wrote. "She uses the wheelchair almost every day but absolutely ALWAYS uses it for long distances. She also uses a walker at home when needed and other home supporting aides daily to help with her day to day living."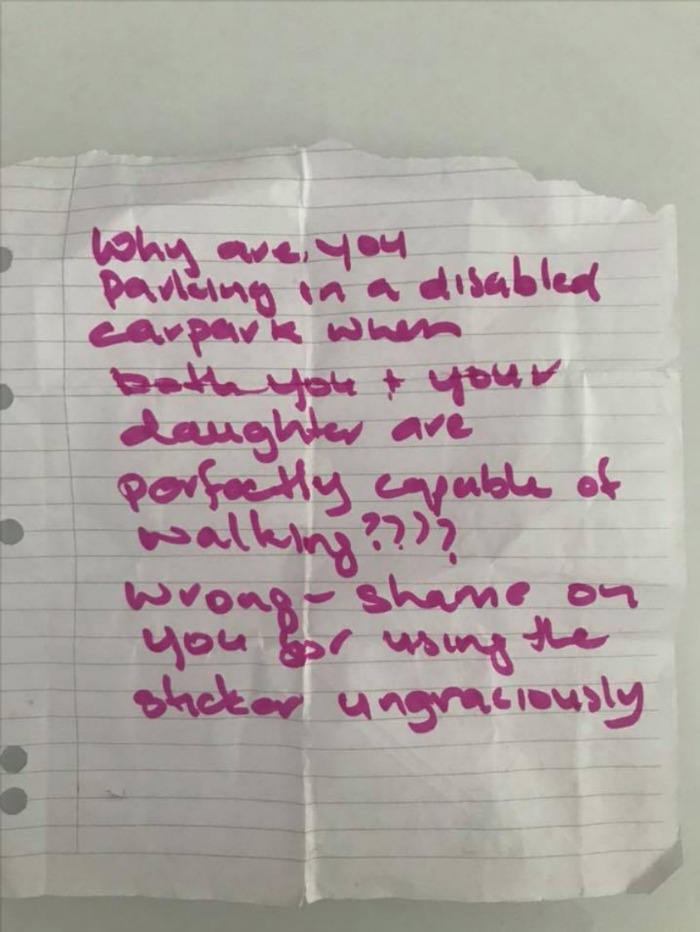 She explained how her daughter is living with an incurable condition known as Glycogen Storage Disease, which causes problems for her joints, heart, liver and muscles.
"We are constantly at the hospital," Beriman continued. "She sees an occupational therapist, physiotherapist, psychologist, cardiologist, neurologist, dermatologist, paediatrician, dietitian, gynaecologist and the metabolic team … I'm sure there's a few more I've forgotten too; again you wouldn't have known this from your visual assumptions."
When the pair returned from shopping, they noticed a big letter left on their car. It read: "Why are you parking in a disabled car park when both you and your daughter are perfectly capable of walking? Wrong – shame on you for using the sticker ungraciously".
As you could imagine, it came as a shock to both, with Beriman pleading for people to think before they judge.
"You clearly seen us and quite easily could have asked me why I parked there and I would have happily explained, or you also could have left your number and I would have contacted you to ease your mind … not that I needed to but because it would have made you think differently," she added. " 'Don't judge a book by its cover' I just hope from reading this, that you and others like you are not so quick to judge people in the future. You never know a person's story by looking at them."
She added that she wasn't complaining about the struggles she and her daughter face, but wanted to give the angry person who left the note on the car some answers.
The local community was quick to offer support to Beriman and her daughter. One person wrote: "Good on you for standing up for yourself and daughter. Unfortunately, there are too many people that lack compassion and kindness".
Another comment read: "So sad that you felt you had to justify yourself to this person. Shame on them for hiding behind a note. Can no one just mind their own business these days?" A third added: "I guess they thought they were standing up for someone with disability in making the wrong assumption that you and your daughter did not need one. Many people do not realise just how difficult it is to actually get a permit. All the best to you and your lovely girl".
It's not the first time a person with a disability has been targeted by "concerned" members of the public. Last month, a Brisbane mother was sent an anonymous letter by a neighbour who asked her to stop letting her disabled son play outside and to stop him making "disturbing" noises. 
That neighbour threatened the mother with legal action and even called the police, but was publicly shamed when the note was shared on social media.
What do you think? Have you ever been shamed for using a disabled parking space – even though you had a permit?