The first is finasteride; even at a low dose, finasteride reduces the amount of a hormone called DHT in men.
"Since DHT acts on the skin surrounding the hair follicles to cause premature ageing and loss of hair growth, a small dose of finasteride – taken either as a tablet or as part of a topical serum – is highly effective in maintaining existing hair and even regrowing it," the doctor explains. "The clinical research has shown that finasteride can improve hair density as much as 25 per cent over a period of two years."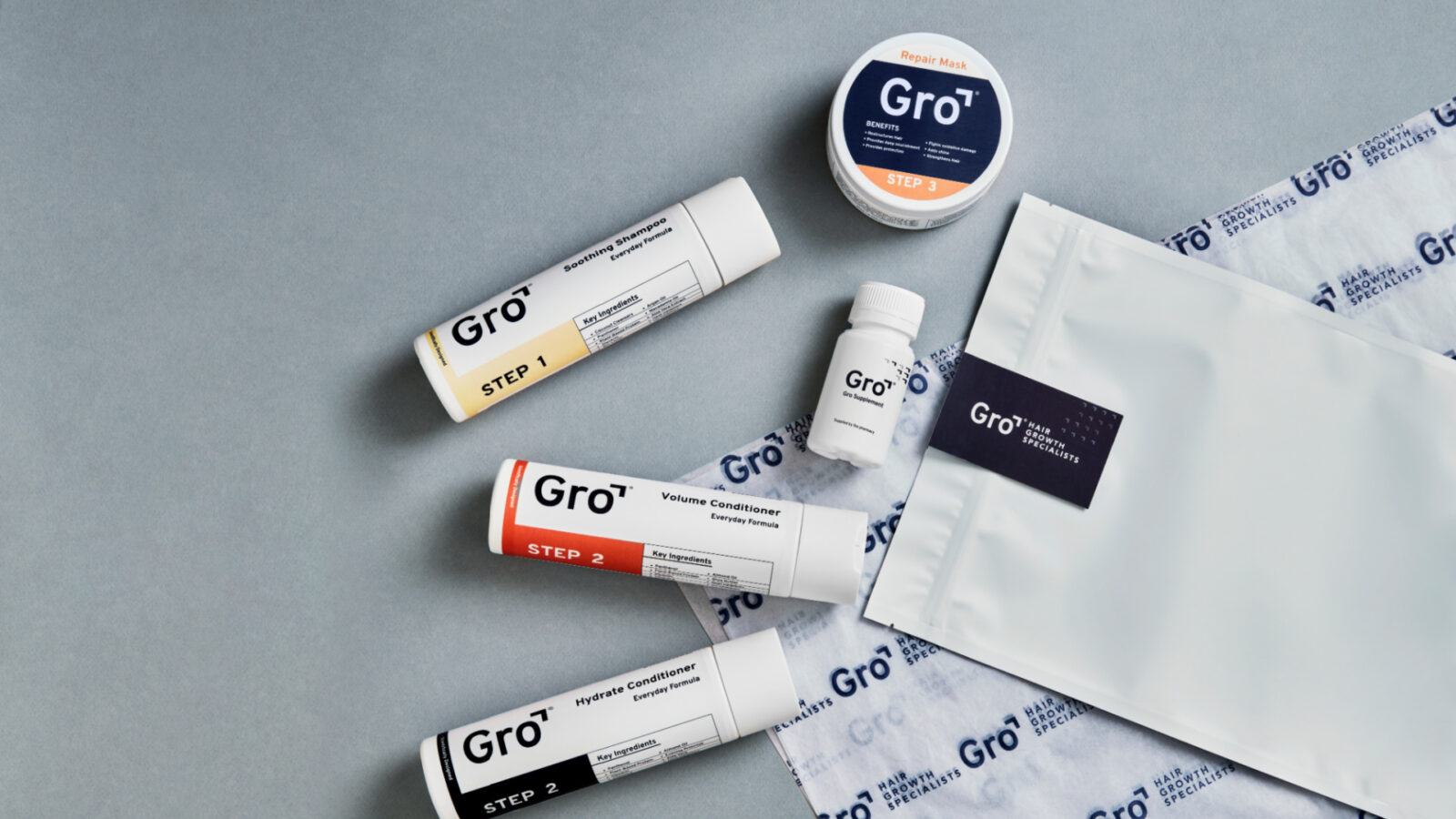 Meanwhile, minoxidil is effective in both men and women in increasing the blood flow to the hair follicles, enabling those vital structures to produce a more robust, healthy hair that stays in the scalp longer. Clinical studies have shown that the higher the concentration of minoxidil, the better the result.
That's why Gro includes 7.5 per cent minoxidil in its products, compared to the 4-5 per cent usually used in over-the-counter hair-loss treatments – which the doctor warns can have a side-effect of causing dermatitis due to their high alcohol content.
"The Gro Serum formulation has additional ingredients, each of which is specifically added to enhance the effect of minoxidil," Dr Weisinger says. "Like finasteride, using high-dose minoxidil can improve hair density by as much as 20 hairs per square centimetre."
To find out what products suit you best, Gro has created a simple, three-question quiz about the condition of your hair and what you're looking for when it comes to addressing your hair-loss issues. You can click here to get started – it takes less than a minute to complete.
Once you've finished the quiz, Gro will give you suggestions on the next steps to take. This can include setting up an appointment with its online clinic to connect you to a specialist hair-loss doctor and a suitable compounding pharmacy to gain access the proven prescription treatments. Or it could be a simple recommendation for Gro's shampoos and conditioners, serum and even supplements – all of which Weisinger says have the potential to produce beautifully healthy hair.
"Our everyday products such as our shampoo and conditioners are designed to maintain or improve the health of your hair to help promote a healthy environment for hair to grow," Dr Weisinger said. "Whether you're losing or growing your hair right now, we recommend looking after your hair every day.
"Our grow serum is markedly different to other compounded hair loss formulations and over-the-counter products," he adds. "Gro serum is high quality serum – like a thin gel. It's non-greasy, doesn't affect the look of your hair and basically 'disappears' once applied. The serum also contains the specific ingredients, caffeine, melatonin, retinoic acid and flucinolone – each of which plays a role in augmenting the effect of minoxidil."
IMPORTANT INFO We write about products and services we think you might like and may receive payment if you click on the links in this article or go on to make a purchase. 
IMPORTANT LEGAL INFO This article is of a general nature and FYI only, because it doesn't take into account your personal health requirements or existing medical conditions. That means it's not personalised health advice and shouldn't be relied upon as if it is. Before making a health-related decision, you should work out if the info is appropriate for your situation and get professional medical advice.