"The gut is paramount in immune function because it is 70 per cent of the immune system," the report states.
"The microbiome plays an integral role in keeping the immune system ready to fight off any intruders."
There are also a number of specific food types we should be eating to maintain gut, and ultimately, immune health.
While probiotics, and healthy eating, have long been lauded as the keys to good gut and immune health, there are a number of other natural remedies as well.
Health Supplements
Practitioner-quality IMUNI Immune Defence capsules contain vitamin D3, vitamin C, zinc and quercetin, aimed at relieving symptoms of common colds and flu.
While much is understood about the importance of vitamins and zinc in maintaining health, less is known about quercetin which is a naturally-occurring antioxidant found in several plants. Studies on animals have proven its antiviral and antibacterial properties.
Even more compelling, human clinical trials have shown that quercetin can reduce the incidence of viral upper respiratory tract infection.
IMUNI Immune Defence comes in 60 vegan capsules and currently retails for $44.95.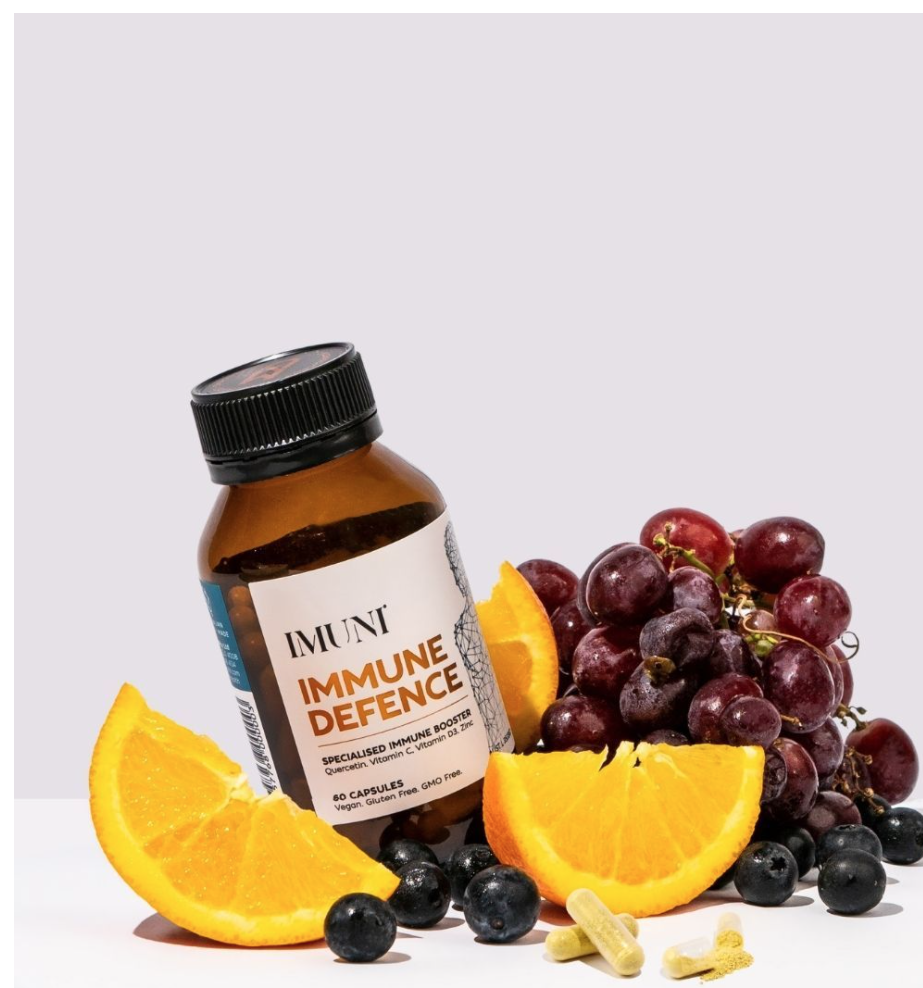 Adopt A Healthy Lifestyle
Many health practitioners believe vitamins, in conjunction with a heightened awareness around wellbeing, hold the key to optimum immune health.
According to healthline.com these 15 foods will set you on the right path to a greater immune system:
Citrus
Red bell peppers
Broccoli
Garlic
Ginger
Spinach
Yoghurt
Almonds
Sunflower seeds
Tumeric
Green tea
Papaya
Kiwi
Poultry
Shellfish
Healthline stresses that variety is critical to ultimate nutrition.
"Eating just one of these foods won't be enough to help fight off the flu or other infections, even if you eat it constantly," it states.
"Pay attention to serving sizes and recommended daily intake so that you don't get too much of a single vitamin and too little of others."
Ageing and The Immune System
The not-so-great news is that the immune system weakens as we age. The good news is we can still do something about it. Medical News Today talks about an "imbalance" in immunity as we grow older.
"This affects the two branches of the immune system — 'innate' immunity and 'adaptive' immunity — in a double whammy of 'immunosenescence'," Medical News states.
"Innate immunity, which is our first line of defence against infections, fails to resolve after the initial threat has passed, causing chronic, systemic inflammation.
"Adaptive immunity, which is responsible for remembering and attacking particular pathogens, steadily loses its ability to defend against viruses, bacteria, and fungi."
Eat Like A Material Girl
According to Women's Health at 61, pop star Madonna maintains her health with workouts six days a week, but also follows a plant-based diet based around wholegrains, beans and vegetables.
Madonna's lifestyle is backed up by the Medical News Today findings which reveal three key ways to maintain immunity health in older age.
These include:
Partaking in regular physical activity
Adopting a Mediterranean diet of more fruit and vegetables
Maintaining a moderate weight
OK, you may not be Madonna, but with a few lifestyle changes, including regular exercise, more mindful eating, reducing stress, and taking a natural supplement such as IMUNI Immune Defence  you will be well on your way to rockstar health.
IMPORTANT LEGAL INFO This article is of a general nature and FYI only, because it doesn't take into account your personal health requirements or existing medical conditions. That means it's not personalised health advice and shouldn't be relied upon as if it is. Before making a health-related decision, you should work out if the info is appropriate for your situation and get professional medical advice.