The ACSM's annual survey, now in its 16th year found 43 possible trends, with the most notable being home workout gear and outdoor exercise. Wearable fitness technology such as smartwatches took the top spot again, a place it has held "since it was first introduced on the survey in 2016."
"Tech advances have made it easy for users to collect important health metrics and work with fitness professionals and health care providers to develop healthy lifestyles and increase quality of life," ACSM Past President Walter R. Thompson said in a statement.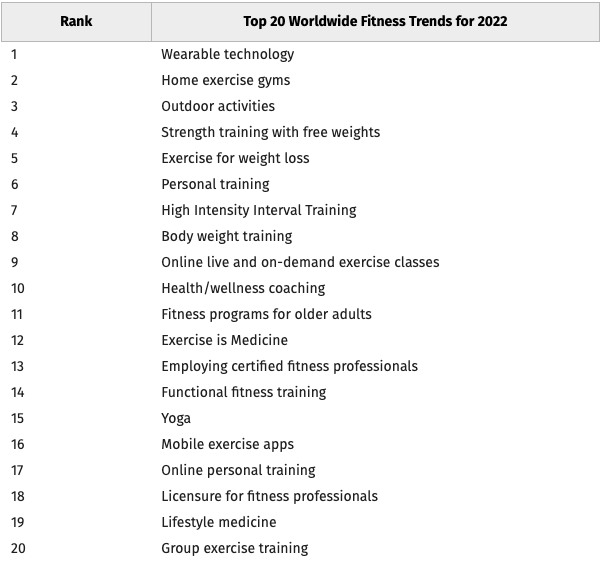 Thompson pointed out that much like previous years, Covid-19 has had an effect on 2022's rankings as the "fitness world continues to feel the effects of the pandemic."
"The more widespread use of vaccinations and our need to get back to a normal lifestyle are definitely reflected in the 2022 trends," he said.
One such trend influenced by Covid-19 was the number two spot – home exercise gyms – which according to ACSM "will continue to be a popular alternative to going to a gym" as they use minimal equipment such as exercise bikes or treadmills.
Outdoor group exercise activities such as group walks, hiking or bike rides came in third making a considerable jump up from previous years.
Fitness trends that provide benefit to the over 60s ranked lower in 2022 with 'fitness programs for older adults' and 'exercise in medicine' falling to the eleven and twelfth spots respectively.
IMPORTANT LEGAL INFO This article is of a general nature and FYI only, because it doesn't take into account your personal health requirements or existing medical conditions. That means it's not personalised health advice and shouldn't be relied upon as if it is. Before making a health-related decision, you should work out if the info is appropriate for your situation and get professional medical advice.