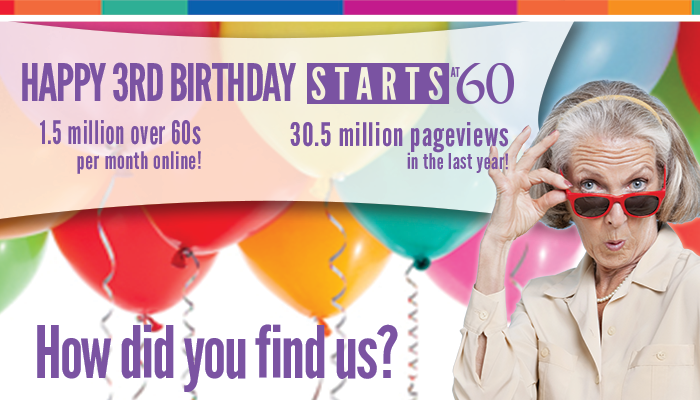 Today marks three years since the very tiny start of Starts at 60 on my kitchen bench in Brisbane. It's three years since I flicked the switch on the ugly little website that brought all of us some new friends and something fun to do each day. Only three years, but it feels like a lifetime and today we have to celebrate a lot of things, but chiefly, the day you arrived and what you brought with you.
The first people to come to Starts at 60 have ended up being some of our most memorable and most significant because they have stayed, played and brought their friends. Names that come to mind include Karen, Jacqui, Brian, Vivienne, John, Sylvia, Libbi, Russell, Christine, Ely, Adele, Jeanette, Jenny, and Lyn and sooo many more people… 1.5 million more in fact. We were started with real community values, and with those roots we have grown to who we are today, a site that served 30.5 million pageviews in the last year and has more than 2 million comments recorded.
Each of the voices we've published over 3 years and every person who has commented has added to who we are, and created conversations that have ricocheted online.
I wish I could remember which order every community member arrived in to Starts at 60 and hand each of you a candle today, for you are doing something really special. You are creating somewhere for each other.  Without you it would just be media… and we know that is rather uninteresting.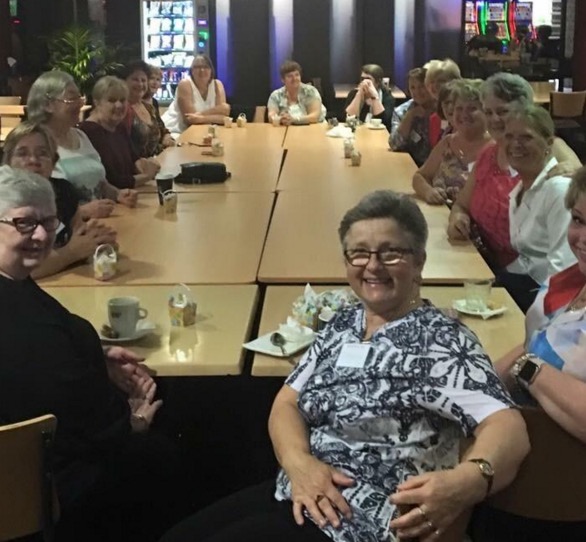 So, this morning we have to stop and say THANKS. Starts at 60 is now served by a team of 17 people that you keep employed with your vibrant conversations and love of what we do. Your hunger for our content has kept a community of 380 over 60 writers writing for the enjoyment of sharing. And in the next year we're going to bring a whole lot more… clever technology that enables you to do more, good fun for everyone and plenty of conversation are our priorities.
As we celebrate, we owe big thanks to our sponsors and supporters, AustralianSuper, Connect Hearing, AAT Kings, Dymocks and Hachette and the others who intermittently pop in and we ask you to consider supporting the advertisers who make our site possible. I also owe an outrageous shout out to our team, who work tirelessly to bring Starts at 60's mechanics to life. And to you our community – wow! You make it awesome to be here every day.
Finally, as an important message on our third birthday, we want to make sure you know you can contribute, participate and get as involved as you want. The things you can do and the voice you can have online through Starts at 60 is now significant and we don't want you to be afraid to use it. If you have an idea, an article, or a recipe or tip you want to share we encourage you. You don't have to be a writer, just a person who wants to try. You don't have to be perfect, we'll edit and polish alongside you. Consider how you might be keen to play and email us at [email protected] with your ideas.
From all the team at Starts at 60 we say thanks. Thanks for coming, thanks for sharing, and thanks for being a part of the voice of over 60s online.
Warm regards
Rebecca (founder) Xx
Comments