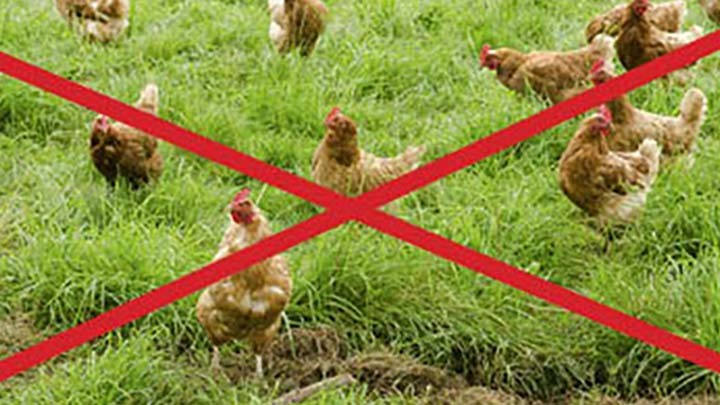 What defines a free range egg to you?  Hens running around freely in a yard munching on grass and plants?  Well, you might not be as excited when you hear the new definition for what should constitute a free range egg agreed yesterday.
The ministers responsible nationally came together yesterday to agree on a legal definition for free range, setting a standard for national welfare and from now on, in order to be called "free range" a chicken has to live in a density of 10,000 chickens per hectare.  That's 1 square metre per chicken.
Consumer and animal rights groups aren't very happy.  They wanted 1,500 chickens per hectare.  The ACT's Consumer Affairs Minister, who supported the smaller density, Shane Rattenbury made a statement:
"Allowing a stocking density of 10,000 hens per hectare is out of step with consumer expectations and accepted animal welfare standards. Consumers expect the 'free-range' label to signify high animal welfare standards with genuinely free ranging chickens – not an intensive farming operation," the ACT's consumer affairs minister, Shane Rattenbury, said.
"I wrote to all ministers prior to today's meeting, asking them to agree to a national definition of free range that ensures enhanced animal welfare standards, and sets a maximum free range stocking density of 1,500 hens per hectare."
1500 hens per hectare is the density recommended  by the CSIRO.
The next part of the free range definition is also controversial.  Most people think that a free range chicken should be roving outdoors no?
Well, the new definition simply legislates that chickens should have "meaningful and regular" access to an outdoor range. There is no more specifications required.
CHOICE believes that eggs which come from hens that don't go outside and have high stocking densities don't meet consumer expectations, and don't deserve a 'free-range' label.
They say that the decision means that big producers can still flog dodgy 'free range' eggs at high prices in supermarkets, and consumers are still going to have to fight to figure out if they're buying the real deal or an expensive imitation. Producers will have to label eggs with the density count though.
They are calling for consumers to boycott the following brands:
Aldi (Lodge Farm Free Range Eggs)
Coles Free Range
Ecoeggs
Farm Pride Free Range
Pace Farm Free Range
Woolworths Free Range
What do you think?  Is 10,000 hens per hectare simply a battery farm, and defeating the meaning of free range?  Share your thoughts and tell us whether you will contemplate boycotting dodgy free range eggs.
Comments