Young couple give their parents the most beautiful Christmas gift ever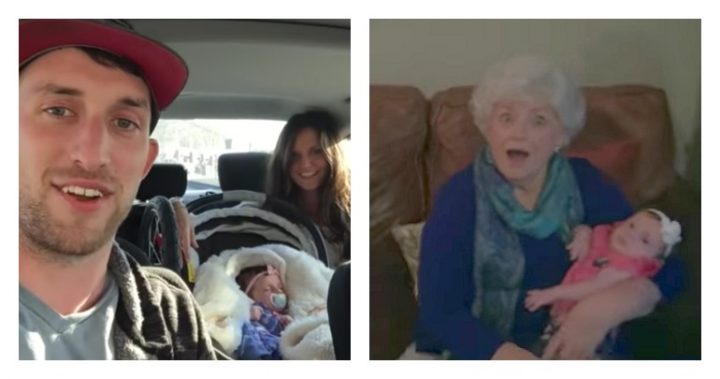 One young couple have given their parents and family the surprise of their lives by turning up to Christmas with a brand new baby.
The catch? They never told anyone they were pregnant!
Ben and Hanna Hinders said they fell pregnant near the beginning of the year and knew they wouldn't see their family again until Christmas so they decided to plan the ultimate gift.
The couple kept their entire pregnancy a secret, only revealing it to friends when they came to visit.
They kept the biggest surprise for their family, turning up for Christmas this year with their brand new baby girl, Ivy.
Ad. Article continues below.
To say their family was shocked is an understatement! Brendon documented the entire thing and caught the hilarious reactions of their parents, and brothers and sisters – as well as all their extended family – on camera.
Most of them thought the whole thing was a big joke and when it sunk it the tears of joy started flowing.
The video has left some people asking why they would choose to keep it a secret in the first place, but Ben says he wouldn't have done it any differently.
"Well, we live so far away, so it wouldn't have changed things too much? Perhaps brought even more worry and anxiousness? But trust me, many people have asked the same," he explained.
"My wife got the idea to bring the best surprise of all for our families, and bless them. And it worked! But it's definitely not been all easy or all good. Still, in hindsight we'd do it all over again."
Ad. Article continues below.
The gorgeous video is sure to make you laugh and cry and reminisce about how your own children told you you were going to be a grandparent!
Let's spread the Christmas cheer. Share if it brings a smile to your face!
How would you react if your kids did this? How did you find out you were going to be a grandparent?