You won't believe what this lady did at age 102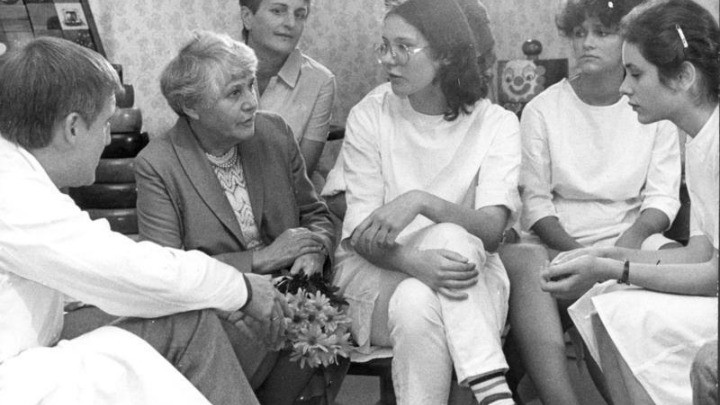 In 1937, German woman Ingeborg Rapoport (pictured above in 1995 with medical students) was a 25-year-old at the University of Hamburg. The bright young woman was on the verge of receiving her doctorate and had written a thesis on diphtheria, a leading cause of infant death in Germany.
But the Nazi regime refused give her the degree she deserved because her mother was Jewish.
By denying her the right to complete the oral component of her thesis, the Nazis found a way to stop her progress in its tracks. Or so they thought…
Seventy-seven years later, Mrs Rapoport has received her doctorate, making her the oldest woman known to earn such a high degree.
Mrs Rapport did not just receive an honorary degree either, she fought to win the degree that had been denied to her all those years ago, overcoming the fact that she could no longer see much.
Ad. Article continues below.
With the help of her friends, Mrs Rapport, who had a successful career as a neonatologist despite having to flee her country to avoid persecution, found a way to update her original doctoral thesis. As she couldn't read normal text or  use a computer, Mrs Rapport's gathered a team of study buddies researched the topic of diphtheria then recited their finds to her over the phone.
Her friends then became scribes for her thesis, which built on her career as one of Germany's top neonatal doctors and, of course, the original words she penned as a 25-year old. In May this year, she received the doctorate she should have been granted seven decades ago.
It was an enormous effort, but Mrs Rapport wasn't doing it just for fame and glory.
"It was about the principle," she told the BBC. "I didn't want to defend my thesis for my own sake. After all, at the age of 102 all of this wasn't exactly easy for me. I did it for the victims [of the Nazis]."
So next time you think you're too old to embark on something that frightens you, remember this story and think again.
Are you inspired by this story? What do you hope to achieve in the near future?