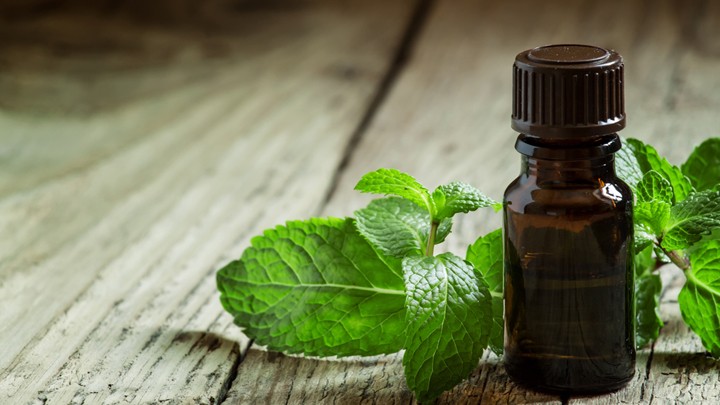 We're all familiar with peppermint – it has such a calming quality and it also tastes great. But did you realise it is actually fantastic at treating health issues?
Peppermint comes from the mint plant (there are about 25 different species of mint). You can use fresh peppermint leaves in tea, and also add to soups or salads. Peppermint essential oil is also widely available.
If you want to give the therapeutic properties of peppermint a try, simply add a drop or two of natural peppermint extract (make sure it's 100% pure) or a few crushed mint leaves into a glass of water (either iced or hot).
Uses for peppermint:
1. Irritable Bowel Syndrome (IBS)
If you're suffering from IBS and prescription medications aren't working, peppermint oil capsules could safely help alleviate symptoms. Research has shown that it is effective, with one study showing a 50 per cent reduction in "total irritable bowel syndrome score" among 75 per cent of patients who tried it.
2. Gas and indigestion
Peppermint oil is an effective alternative to indigestion medication and helps to relax the muscles of your intestines. This allows gas to pass and eases abdominal pain. Try peppermint oil or leaves added to tea.
3. Shingles
Shingles are very debilitating and can be hard to treat. A topical treatment of peppermint oil can assist in improving shingles-associated pain. You can apply it topically or drink in a soothing tea.
4. Memory issues
If you're forgetting more than usual, it could be a sign of stress. The aroma of peppermint has been shown to enhance memory and increase alertness, so one of the best ways to relieve this is by adding a few drops of the essential oil to a bowl of hot water and placing your head over it under a towel.
5. Dental cavities and bad breath
Peppermint oil extract has been shown to be better than mouthwash in inhibiting bacteria linked to dental cavities. Powdered peppermint leaves are a great option for those who don't like gum or mints but want to freshen breath and whiten teeth.
6. Respiratory problems
Peppermint oil acts is nature's decongestant, and is a very effective respiratory tract cleanser. Use peppermint essential oil as a cold rub on your chest or inhale it through a vaporiser to help clear nasal congestion. It can also be used when you have a cold or flu.
7. Headaches
Do you have a headache? Try dabbing a few drops of peppermint oil on your pressure points, including your temples. Inhale from your wrists and then massage all areas in.
8. Stress
Peppermint oil is cooling and energising. Add a few drops to your bath for instant stress relief and take a soak. Alternatively, add a few drops to your oil diffuser so your home smells clean and calming.
9. Muscle Pain
Peppermint may help to relieve muscle spasms and pain. Try massaging its essential oil onto sore muscles or adding it to your bath water for a deep muscle soak. At the very least the scent will calm and cool you down.
1o. Reduce food cravings
Inhaling peppermint essential oil can stave off hunger and can help you feel full faster. Just the smell can be enough to put you off food so if you are having trouble with your portion sizes, try applying a couple drops around your forehead.
Share your thoughts below:
These are suggestions only and not medical advice. If you wish to supplement peppermint oil for a medication you are taking, speak to your doctor. 
Comments