You can't get more Aussie than this new meat pie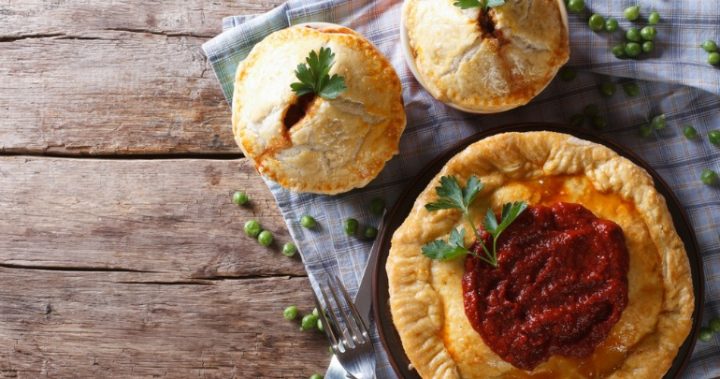 Meat pies have been a staple lunch-time meal since… ever.
Not satisfied with a plain 'maggot-bag', pie makers have come up with a few taste variations to keep everyone happy.
No more are you only to decide between tomato or barbecue sauce, or even with or without mushy peas.  
Now you can get yours lips around a whole menu of tastes like chunky steak, beef and onion, mince and potato, chicken and veggie, steak and egg or vegemite pies. Wait, what? Vegemite?
Yes, Four'N Twenty have created a new pie with the other classic Aussie ingredient. They are combining the standard beef mince with cheese and vegemite-spiked gravy for a unique flavour. Their advertisements say they have something for everyone. Well, they sure do now. 
Ad. Article continues below.
Marketing manager Mario Matchado said this year was a historic one for both Four'N Twenty and Vegemite. "It's the 70th anniversary for Four'N Twenty and Vegemite has moved back into Australian ownership. What better way to celebrate than launching a Four'N Twenty Beef, Cheese and Vegemite pie? We love our Aussie mateship culture and we couldn't be more stoked to be part of this delicious, historic partnership."
The new pies are due on shelves in supermarkets tomorrow, although some Aussies are taking to social media to say they got their hands on some already. Be quick, they are only available for a limited time.
Now all you need to decide is how you are going to eat it. One handed, with knife or fork, or with a spoon and saving the pastry for last? Your choice.
What's your favourite meat pie?