Would this make you switch to solar?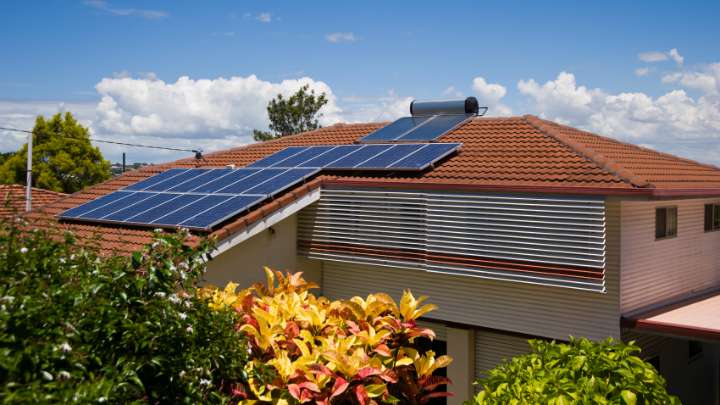 Solar panels may save money over time, but with a steep up-front cost, they're simply too expensive for many of us to realistically consider. Thankfully, this could soon change.
And strangely, we may have traditional power companies to thank for it.
According to the ABC, energy providers are considering renting clean energy systems to homeowners, knocking down one of our biggest obstacles to cleaner, cheaper living.
"This is going to happen", said John Grimes of the Energy Storage Association. "It's going to be a big phenomenon".
Ergon energy will lead the charge by trialling a hybrid solar/battery system in 33 homes. If the trial succeeds, it could soon be a win-win situation for customers and companies alike.
Ad. Article continues below.
The Australian Renewable Energy Agency (ARENA), also backing the trial, believes power companies will need to consider changing their business to stay relevant.
Until recently, energy providers have strongly resisted renewable energy as a threat, driving people away from the grid. Now they're beginning to see it as an opportunity – with the right research and support – to keep us as customers by saving us money.
With batteries getting cheaper, this could happen sooner rather than later. According to Ergon Energy chief executive Ian McLeod, "this is all about getting ready for that price point where it makes sense".
Mr. McLeod believes that if electricity companies changed their business model, the traditional grid could actually help clean energy users save money, trading their own electricity and accessing the cheapest power.
"Our network is the only thing that connects all customers and resources together", he said.
"So whether the cheapest resource is from the sun, or from the local tip or the sugar mill or down the road from a centralised generator or over at your neighbour's place, it's the grid that connects it all".
Do you plan to switch to solar power? Would you sign up for a program like this? Or would you rather go off the grid entirely?