Woolworths says you're going to love this – but will you?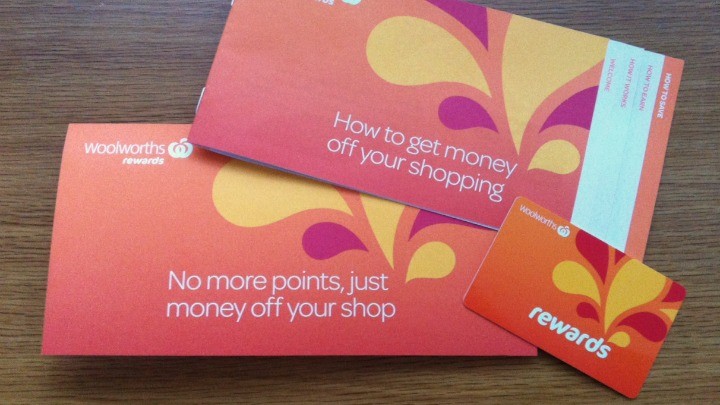 After the shock announcement that Woolworths is dropping its Qantas Frequent Flyer loyalty program, customers are now receiving the new-look reward cards.
Gone are the points we once accumulated for years in order to earn a flight from Sydney to Newcastle, replaced by "Woolworths Dollars", which are redeemable at checkout.
According to the marketing bumph, Woolworths is "making things simple": "As soon as your Woolworths Dollars balance reaches $10, simply scan your card and you'll automatically get $10 off your next eligible shop in participating stores*. No points,  no vouchers, no hassle."
To save you reading the fine print, we'll tell you that the asterisk means most Woolies supermarkets and BWS liquor stores will be participating, but tobacco products, gift card and internet cafes will not earn you dollars, and these dollars can't be redeemed at cobranded Caltex stores.
So how much is a Woolies dollar worth?
Ad. Article continues below.
According to the brochure, $1 Woolworths Dollar equals on regular Aussie dollar, but you only earn this new currency on certain items, which are either advertised in store with orange tickets or chosen for you based on what you typically buy.
Deutsche Bank analyst Michael Simotas says Woolies' new program will cost the supermarket chain a lot more than the previous program with Qantas, around $500 million a year, compared to $80 million.
Fairfax media reports that it would be typical behaviour for the supermarket chain would be to pass some of the costs pf the loyalty program onto suppliers.
According to analysis by the Australian Centre for Retail Studies at Monash Business School, if you were to spend an average of $107 per week at Woolworths, you would earn a $10 reward every 7.4 weeks.
While the "rate of reward" is actually higher, many Woolworths customers have said they will no longer shop there if they don't earn Frequent Flyer points.
Have you received your new Woolworth Rewards card? What do you think of the changes?