Woolies dumps frequent flier points from rewards. Will free money change your habits?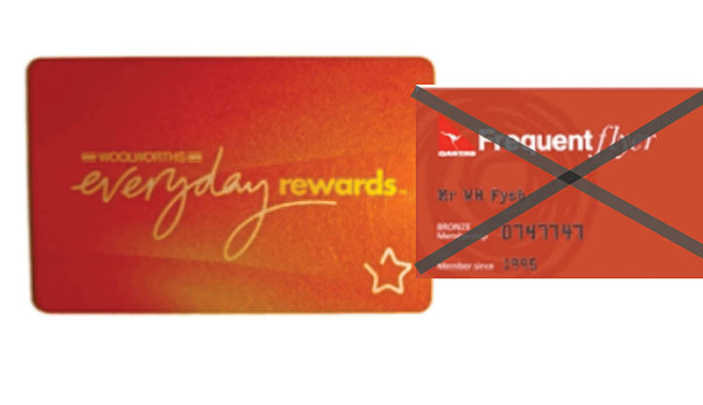 My husband openly confesses that the key reason he shops at Woolworths is a fondness for getting "free" frequent flier points, so today's announcement by Woolworths that they plan to dump the points and bring in "discount dollars" has left him shaking his head.  Perhaps you'll have a more enlightened perspective on the change that will no doubt affect us all.
According to a Fairfax media article, Woolworth shoppers will be able to earn discounts rather than Qantas frequent flier points from the Everyday Rewards program.  It's a scheme that looks and smells a lot more like the fly buys program, with no "fly" anymore.
"Under the terms of the new look scheme, customers will earn "dollars" when they purchase specially marked grocery items at Woolworths.  Once a customer accrues $10 this amount will be stored on their reward card and instantly deducted from their next shop," Fairfax reports.
Woolworths, who has nine million loyalty card holders is trying to simplify the program, and bring consumers what they want – discounts in store.
"There was an absolute commitment to look at the business through the eyes of our customers and make decisions that benefited them," Mr Rick Banducci, the Supermarkets and Liquor Boss said.
Ad. Article continues below.
"What our customers have told us is what they really value is the price of their basket of goods and… they really valued cash backs."
Orange stickers will be placed on the "special reward products" that tell people how much "cash back" you can earn by buying them.  It will vary from 20c to $2, and will be acrued on your Woolworths Everyday Rewards card, being able to be redeemed when it hits $10, against your regular shop.
Woolworths claims they are trying to make themselves 100 percent relevant to 100 percent of their customers, but backlash on social media would say otherwise.  Some shoppers are being loud with their thoughts and disappointment saying they will change their shopping habits.
The new program will kick off in 2016, and the frequent flier program will apparently continue just until the end of 2015.
Are you disappointed to see the frequent flier program being abolished by Woolworths?  What do you think of the proposed scheme?