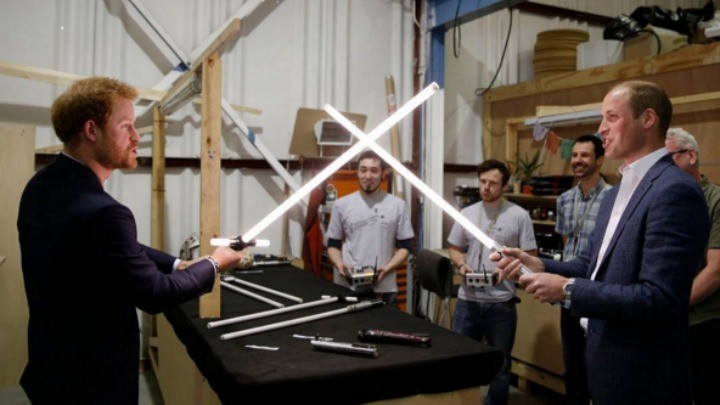 Prince Harry and his brother William, the Duke of Cambridge, have lived out every fans greatest fantasy, touring the set of Star Wars at Pinewood Studios in Buckinghamshire.
The pair had royal fun, duelling with lightsabers, chatting to Luke Skywalker (actor Mark Hamill), BB-8 the droid as well as receiving a hug from Chewbacca, during the tour on Tuesday.
It is safe to say that fans across the world are incredibly jealous of the pair! The Daily Mail reported that William admitted he is a "total geek" when it comes to Star Wars and took time out of the tour to appreciate the fine details in the costumes and props.
"You should be really proud. They are amazing," he was quoted to have said to a worker. The royal pair showed that the force is within them as they fought in a brotherly lightsaber duel.
Harry was bemused to find that his lightsaber turned red and asked, "Why do I always have to be the baddy?"
"Are you scared?" was reportedly Williams reply, which was quickly followed with a menacing, "Come on, let's dance" from Harry.
William replied civilly, "We can do this later outside" to which Harry said, "My godson would love one of these – your son would love one of these."
Another highlight of the tour was meeting Luke Skywalker and Chewbacca, played by Joonas Suotamo, in full costume which towered over the royal pair at seven foot six.
Both Harry and William embraced the chance to have a big ol' bear hug with Chewbacca, which seemed to make actor Mark Hamill a little jealous. He remarked, "If I went towards royalty with my arms outstretched I would get arrested – but there's something about a Wookie that means you just wanted to be hugged."
Harry also jumped into the pilots seat of an A-wing prop, the pair chatted with Daisy Ridley, who plays Rey in the movie, and saw the making of costumes and props from the movie.
The tour went for an hour in total and judging by the grins on their faces, they thoroughly enjoyed themselves.
Are you a fan of Star Wars? Would you love to do a tour of the set? What would you be most excited to see?
Comments