Will you bake the world a better place?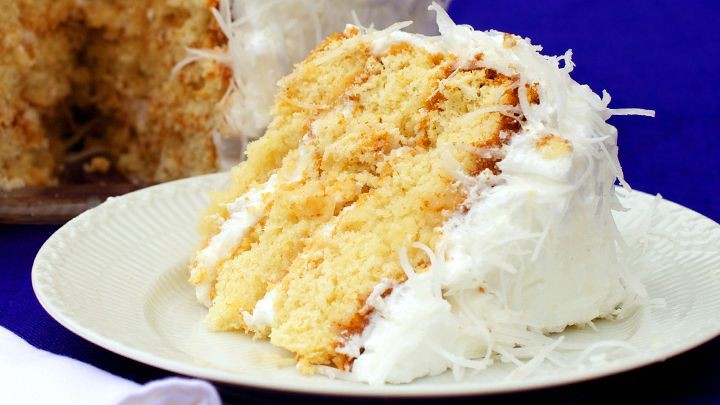 [Warning: this post may make you drool.] Join Maggie Beer, the Australian Women Weekly's Pamela Clark and Kate Ritchie for a month of decadence – and cakes.
The Red Cross Big Cake Bake takes place next month and registrations for events are now open.
Taking part is easy – all you need to do is register an event and get baking (or get someone else to do it!). Events can be a bake sale, an office morning tea or a small gathering with friends. Anyone who gets to sample your sweet stuff makes a gold coin donation and supports the wonderful work of the Red Cross.
The official event day is Monday August 31, but events can be held anytime throughout August, and you don't have to stick to cakes. Slices, pies, cookies, cupcakes, savoury dishes or desserts are all on the menu.
The Big Cake Bake has a great bunch of ambassadors, from celebrity chefs to TV personalities, and they have shared their favourite recipes.
Ad. Article continues below.
You could try Adrian Richardson's Coconut Pina Colada cake (pictured above) or Chris Bath's Orange Almond Cake…
…or Kate Ritchie's Flourless Chocolate Cake…

…or perhaps Maggie Beer's Burnt Fig Cake.
Ad. Article continues below.
By baking and raising funds, you will be helping Red Cross to continue its vital everyday work in Australia and across the region, from assisting elderly and isolated people to stay in their home, to providing a nutritious breakfast for children who might otherwise go to school hungry, and responding to natural disasters as soon as they occur including relief and recovery assistance for people and communities affected.
The official event date is Monday, 31 August 2015 but to make sure nobody misses out, events can be held anytime, anywhere throughout August.
Click here to register your event. The Red Cross will send you a fundraising host kit with all the tools you need to run a successful event.
Will you be taking part in this super sweet event? Is the Red Cross one of your preferred charities?