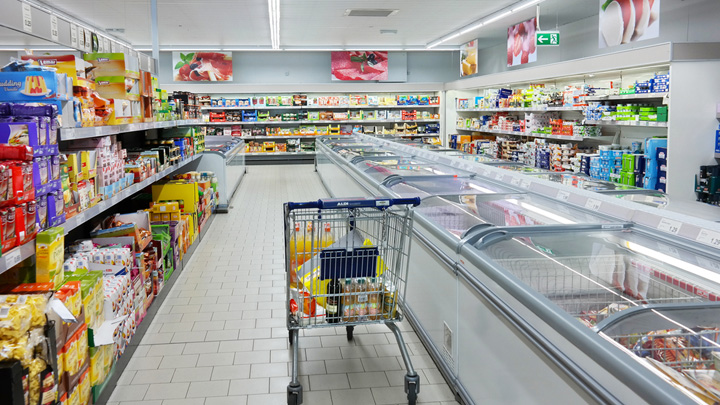 Experts say we've gotten so sued to cheap prices that we mightn't be able to handle it if they increase… and they blame Aldi.
The German supermarket has shaken up not only the grocery industry but also retail in general as more and more shoppers flock to their bargain basement sales to get their hands on anything from drills to ski gear to white goods.
And even the Reserve Bank is concerned about it.
You see, inflation hasn't been going up at all recently – in fact retail prices have stagnated so much so that the RBA did a big investigation into the cause and found Aldi was at the centre.
The RBA says we've had "a large downward shift in the average rate of retail inflation" that is not explained by labour costs or import costs, but by foreign retailers.
"Inflation in the price of retail goods has been surprisingly low for a number of years. The considerable depreciation of the Australian dollar over this period by itself would typically have led to higher retail inflation", the RBA said in their report.
And retailers are trying to be careful of increasing prices, as they know that with Aldi's popularity, it could drive them away. The bread and butter of any Australian retailer are their local customers, so instead they have been cutting staffing, chain suppliers and so forth, but this in turn has angered those who rely on their bread and butter: the supermarkets!
Shoppers may need to prepare for low prices to be a moment in time, and not something that will continue to fall.
The RBA said, "In a number of market segments, liaison has attributed the increase in retail competition to the actions of a perceived 'market leader', which is generally looking to expand their market share, effectively increasing supply. This has led a number of retailers to report that they believe demand for their goods is very price sensitive, and fear that they will lose sales volumes if they increase prices".
Aldi's drastically low prices have meant retailers such as Bunnings have had to up their game, after the German chain offered a very cheap drill.
A spokesperson for Aldi told SmartCompany its Special Buys are designed to "help our customers get the best value on products which support their passions and interests".
"Our Special Buys deliver hard to beat value because our streamlined business model enables us to keep our prices low. Our logistics and supply chain operate with world-class efficiency, keeping delivery routes short and employing best practice warehouse techniques".
But the RBA has proven that their supply chain is causing headaches across the board, putting the onus back on consumers to make good choices.
What might be more of an issue however is that sometimes consumers don't have a choice to shop around…
So tell us: do you think that Aldi is doing a good thing by forcing other retailers to drop prices? Or should Australians be supporting local businesses and the real people who get food from farm to table?
Comments