Why 'ageing gracefully' makes me angry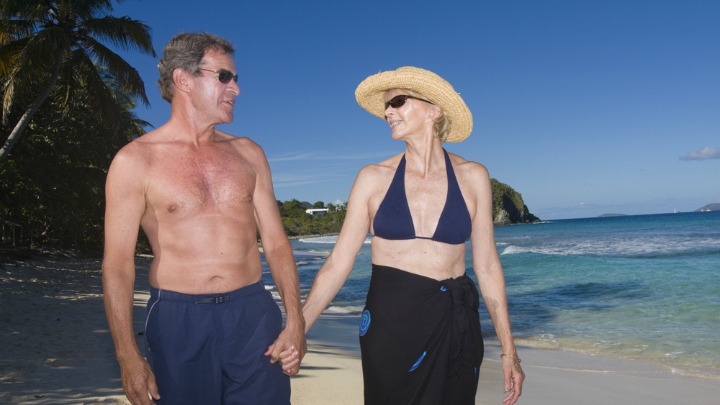 If there's one thing that gets on Denese's nerves it's being told she needs to 'age gracefully'.
"What a load of rubbish!" the 65-year-old says. "Getting older is all part of the adventure, and what an adventure I'm having."
Denese says she's not interested in defying the ageing process — "I don't give a fig about recapturing my youth," she says — but instead focusses on appreciating all the really good things getting older has to offer and laughing off the rest.
"Now that I'm in my 60s I'm often almost invisible," Denese says. "It's given me a lot of freedom."
Denese says when she hears the term 'ageing gracefully' it makes her cringe. "I feel like I'm supposed to be a doddery old lady with a walker, shuffling towards a tunnel that has a bright light at the end of it."
Ad. Article continues below.
She says it feels like there's an air of resignation associated with it, when she believes the opposite to be true.
"I honestly believe that getting older takes a lot of effort," she says. "I have to work really hard to reap the benefits of ageing. My friends feel this way too."
Denese's close friend Anna elaborates.
"When I was younger we didn't have all this knowledge and technology about skin care. I was out in the sun for hours playing sport or at the beach with my friends," Anna says. "Now, I'm seeing my doctor to have 30 years worth of skin cancers removed, and if I want my skin to be even just 'okay' I'm looking at this cream or that cream just to get enough moisture."
The ladies laugh.
Ad. Article continues below.
"Don't even get me started on what has happened to my boobs!" Anna says.
But it's not just women who bare the brunt of the 'ageing gracefully' push. John says he has to make an effort not to scare the younger generation when he talks about the 'now and then' differences.
"I remember when we wore our best clothes to the movies, or going to the dance on Saturday nights and actually dancing or when it was possible not to contact someone immediately and no one got into a panic," John says.
Then there are all the things you do on a daily basis.
"I'm on pills for my cholesterol, pills for my heart, pills for my back," John says. "Though I've still got all my faculties, my memory escapes me from time to time… I can't tell you how many pairs of glasses I've misplaced."
Ad. Article continues below.
John doesn't dare stop taking his meds. "I might rattle when I walk, but I figure I'm doing myself a favour by staying on track with them."
There's maintenance in addition to the medicinal. Denese, Anna and John all say that diet and exercise is an important part of their daily lives.
"It's about not giving up," Denese says.
"We dance, hike, sing, travel," Anna says. "And just because because we're over 60 doesn't mean were 'dead below the waist'."
It's not about 'ageing gracefully', life after 60 is about making different choices. Life has become more than your children. You make conscious choices to see friends and family, about getting involved in your local community and about acting as a mentor to those younger than you.
It's a lot of work, and not much of it is 'graceful'.
How do you feel about the term 'ageing gracefully'? What changes have you noticed as you've moved into your 60s?