Who's worse – grumpy old men or women?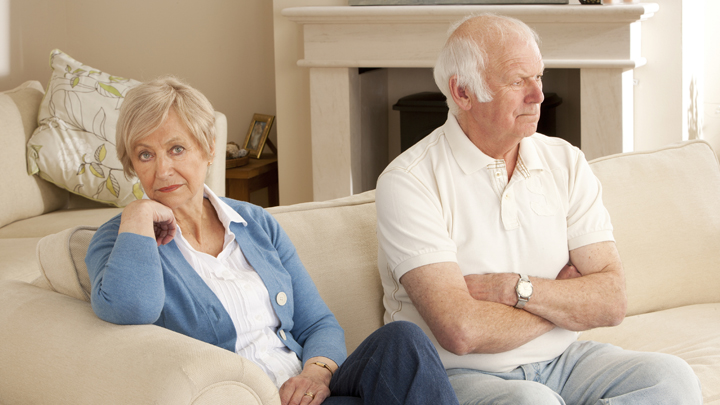 It's the age-old cliche – men get grumpier as they get older, but how true is it and how do they compare to women in the mood stakes?
Ad. Article continues below.
According to a recent study, the average age that a man becomes grumpy is 70. The 15-year research project followed 1,300 men and it showed that happiness waned by the time the participants hit their 7th decade. What caused this grumpiness or sadness? Although older men said they had fewer worries to speak of, their health, memory and loss in their life made them feel less happy around 70.
Experts say that the evidence shows men are better at shrugging off stress and anxiety up until the age of 65, and are particularly happy at the beginning of their retirement.
So, what about females?
A UK study has shown that women are more likely to admit they're moody, with 4 in 10 saying their bad temper got worse as they aged.
Compared to men, who only have 3 main reasons why they feel grumpier as they get older, women have a much longer list – among the 32 mood triggers were 'being overweight', 'not having enough money' and 'menopause'.
In a bit of a light hearted dig at their other halves, men disagreed that women were only grumpy for 5 hours a week (the estimate by the female respondents), instead they think that their partners were moody for at least 8 hours.
GP Dr Hilary Jones said that "Hormones can have a huge impact on both sexes lives [but women] shouldn't underestimate the affect hormones also have on men's lives".
It is clear that even though menopause and 'manopause' affect our moods in differing amounts as we age (due to our imbalanced or reduced hormones), neither are better or worse than the other – it's all about how you look at life. And even though you or your partner might be grumpy, let's be honest: you probably aren't always that way, right?
What do you think? Have you become more moody as you age? Who is grumpier, men or women? Tell us your thoughts below!