Which potato is best for mash?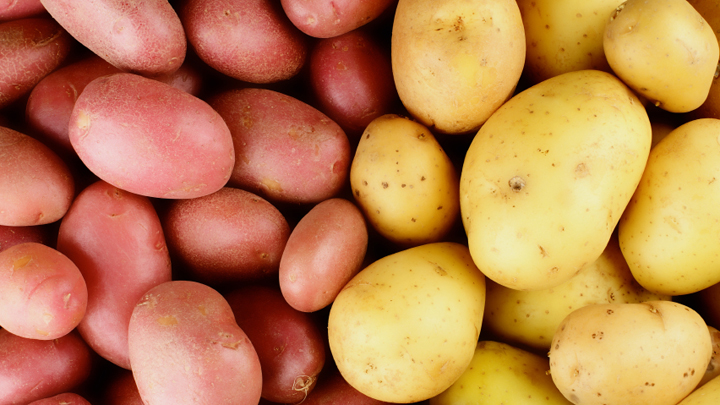 With the cold snap gripping South Eastern Australia, it's definitely a night for warm comfort food, maybe bangers and mash for dinner? The question is: which potato to mash?
There are so many out there – kipfler, dutch cream, Sebago brushed, washed, gold delight, desiree. It's clear, potatoes ain't potatoes.
And then there's that other great potato debate – what's the best way to mash them?
At my place, the trusty dutch cream is the mashing potato of choice, boiled to perfection then combined with butter (definitely not margarine) and a splash of milk, then mashed to a not-too-mushy consistency. Friends rave about the benefits of mashing their potatoes in their food processors, but personally they turn out a little too runny for my liking. A simple stainless steel hand masher is all it takes.
Or you could try the funky new trend of smashed potatoes where the vegetable still resembles a chunky piece of potato, just lightly smashed with a kitchen fork and some fresh butter melted through. Now I'm salivating!
Ad. Article continues below.
There are 5 common mistakes to avoid when making mashed potatoes, according to the website thekitchn.com.
Using the wrong type of potato – avoid waxy varieties which don't contain a lot of starch
Not salting the water – salt is critical to well-seasoned potatoes
Starting with hot water – the outside of the potato will end up overcooked and the inside will remain firm and undercooked
Adding cold butter and cream – critical for mashed potato but don't add them straight from the fridge
Overworking the potatoes – the more you mash, the more starch is released and the potatoes get gluggy
Based on those tips, I clearly have a lot of refining to do in my kitchen to come up the best mashed potato ever.
How about you?  Tell us which is the best potato for mashing and what's the best way to mash the humble spud?