Where in the world is Wonder Woman?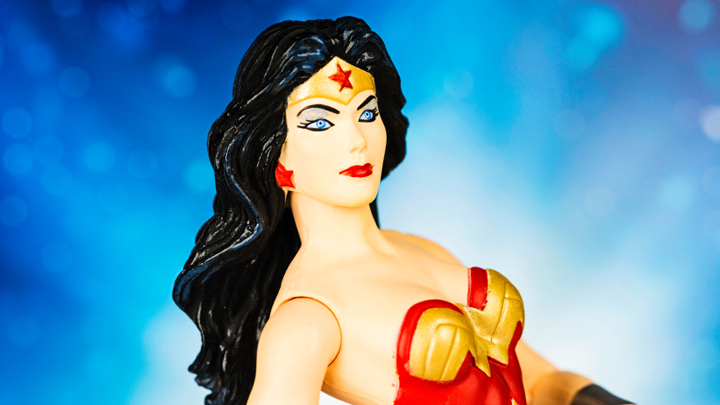 As grandparents, we know how important it is to be a role model in our grandchildren's lives. We're highly conscious of it and are aware of our every action when we're around them. We want our granddaughters, especially, to feel strong and fearless in the world, and yet our wishes don't seem to be reflect in what's around us – namely in the shows and movies our grandchildren watch.
Turn on the TV at 6 or 7am and you will see male-dominated shows: Bananas in Pyjamas, Thomas and the Tank Engine, Bob the Builder, Arthur, Mike the Knight. Finally, on a weekday morning, the first female-centric show will air after all the boys shows are done: Peppa Pig. Now, this is of course just a small scale Free-To-Air example going off ABC's children's programming, but you see what we mean.
What happened to the Wonder Women of the world? The Flintstones, Scooby-Doo and Bewitched were our childhood and they all starred a female in the lead characters. These days they are few and far between. Just the other day I saw the new Avengers: Age of Ultron film. It was a great movie however I couldn't help but realise there was only one female superhero – I mean, it was right there in front of me but then it hit me: all these other Avengers have their own films…except for the Black Widow. Coincidence? Probably not. It is such a shame that there isn't that amazing leading role in a superhero film for a woman. We see Spider Man getting multiple sequels and film adaptations, not to mention the endless list of other male superheroes. But what about our granddaughters? Where is their superhero who is saving the world?
Ad. Article continues below.
In an ideal world, their mum or dad is their hero, and they probably are. But little girls also need that woman who is kicking butt, even if it is animated or a Hollywood film. The point is that they show girls can do it too.
It seems the big production companies feel the same way: just this week DC Entertainment announced, "A New Super Hero Universe Designed Just For Girls, Slated For Fall 2015". They labelled it an "unprecedented initiative" and the launch includes digital content, TV specials, Made-For-Videos, publishing, toys and apparel.
Even Mark Ruffalo, star of the Avengers film, said he wants to see more girl superhero merchandise:
.@Marvel we need more #BlackWidow merchandise for my daughters and nieces. Pretty please.

— Mark Ruffalo (@MarkRuffalo) April 29, 2015
Ad. Article continues below.
In their press release, DC said, "DC Super Hero Girls [is] an exciting new universe of Super Heroic storytelling that helps build character and confidence, and empowers girls to discover their true potential. Featuring DC Comics' most powerful and diverse line-up of female characters as relatable teens, DC Super Hero Girls will play out across multiple entertainment content platforms and product categories to create an immersive world".
It has been developed for girls aged 6-12, and "centres on the female Super Heroes and Super-Villains…during their formative years—prior to discovering their full super power potential. Featuring DC Comics' icons such as Wonder Woman, Supergirl, Batgirl, Harley Quinn, Bumble Bee, Poison Ivy, Katana…each character has her own storyline that explores what teen life is like as a Super Hero, including discovering her unique abilities, nurturing her remarkable powers and mastering the fundamentals of being a hero".
Sounds good, doesn't it? This comes just after Marvel Entertainment faced backlash when Avenger stars Chris Evans and Jeremy Renner had made sexist jokes about the dating history of Black Widow (played by Scarlett Johansson). Even though Evans and Renner quickly issued apologies, it shows that superhero films are boys' clubs….and now it's time to make it all inclusive – especially our impressionable and fearless granddaughters.
Tell us, what do you think? Do you think there should be more superheroes and role models for our granddaughters?