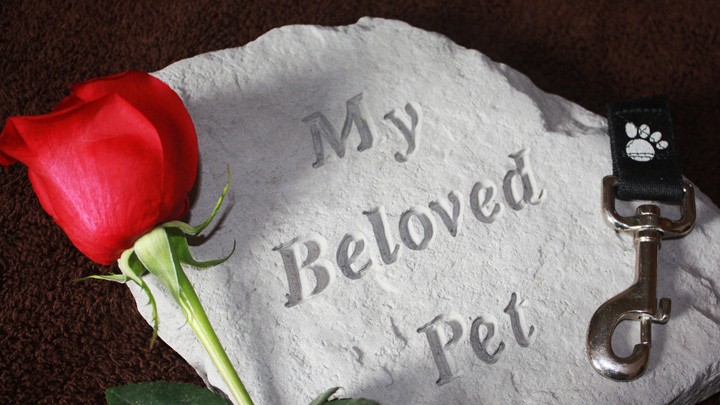 Anyone who's had a dog will know the intense connection you feel to them. They aren't just a pet but a friend, a companion, and a confidante. Dogs feel your emotions and show their own to you, which makes the loss of your dog even harder. You wish they could speak the same language as you so you could comfort them or tell them it would be OK.
Unfortunately not every pet owner has a chance to say goodbye as the death of a dog can be sudden and unexpected.
When we've spoken about the loss of your pet before, the response was overwhelming.
One reader, Catherine, spoke of the lesson she learnt early on in life: "Mum taught me one of the hardest lessons in life: "letting go." I was only a young girl when our poor aged spaniel's back legs gave way, and toileting became a problem. Mum suggested an injection and I was so horrified, and thought she was very cruel. I carried the poor darling up and down everywhere for a while and then Mum spoke about what a dignified "duchess" she was, and how humiliating this all was for her and that discomfort on the scale she was suffering was the cruel part. So we took her to the vet and I stayed with her and although I was crying my heart out. It was the most peaceful, painless process and I have since had to repeat the process a few times as our pets have had organ failure from old age. But now I know I'm helping our most loyal friend depart with dignity and peace from the pain they are in, and I'll always thank Mum for that early lesson she imparted".
Barbara said, "It is always tough to make that decision. Just stealing yourself to decide that old ailing animal isn't enjoying life but just surviving. An injury or illness often actually makes it easier because we are made to think about our decisions. An old cat suffered an eye injury that would have required her injured eye to be removed, her arthritis and loss of condition made our decision to put her down instead easy. Our last two dogs were harder as nothing happened to force a decision, we worried if we were being selfish by not making the decision, but eventually with both we did decide. The last dog we asked the vet to come and do it at home to avoid the stress on the dog of the hated vet visit being the last thing that happened"
Joy spoke of a beautiful way her dog was commemorated: "Twelve months ago we said goodbye to our beautiful rescue girl "Manny". After a round at vets and medication for cancer we made the difficult decision to let her go to ease her suffering. We organised the vet to come to the house so she was in familiar territory and we could let her know we loved her as she went to sleep. We had also organised for Pets at Peace to come and take her to be cremated then returned to us in a beautiful jar with her name hanging off it and also received a beautiful silk red rose to keep. We still miss her and gave her a warm bed, food and heaps of cuddles and kisses in the short time she was with us"
It's clear that taking your pet to the vet on the day they need to be put down is the hardest part of being a pet owner. Almost instinctively, the dog doesn't want to go. They feel what's going on and many comments spoke of how they didn't want to make the decision.
Dr Straw, who predominantly treats cancer patients at the Brisbane Veterinary Specialist Centre, says, "The first question I am asked is, 'What would you do if this were your dog or cat?' But I honestly can't give provide an answer. I don't know your pet as well as you do, and I don't know your full circumstances, so all I can do is provide information about what's fair for the animal.
"From my perspective, it's all about quality of life. With any treatment, we are asking what is this pet's life like, is it in pain? What can we expect down the road; can we get this cancer to go away? Are the benefits worth the risks we're putting the patient through?"
There's no doubt the loss of a dog is profound.
Here are a few ways you can memorialise your pet who has passed away. Instead of digging a grave in your backyard or having your vet take the body, take a look at these.
1. Pet cemetery
There are a number of pet cemeteries around Australia that specialise in pet burials, including a funeral service complete with a coffin. This means once buried, you can visit your special friend whenever you like, and is especially good for those who have little yard space or cannot bring themselves to bury at home.
2. Urn
Specialised companies can cremate your pet. They simply come to your home and exhume the body, cremate the remains and bring you back a beautiful urn that you can display.
3. Pet rock
No this isn't an actual pet rock, but a company called PetRock that can memorialise your dear pet on a rock with a special epitaph and photograph. It is a nice twist on the typical headstone and can be displayed nicely in your garden.
4. Photo album
No doubt you have taken a lot of photos of your pet so if they have recently passed, why not make a beautiful photo album? You can show your friends and family and always have those precious memories stored somewhere special.
5. Painting or portrait
If you have a favourite picture of your pet, why not have an artist friend paint a portrait for you? Or if you prefer, have a photography specialist enlarge your photo and frame it.
6. Jewellery
What better way to always have your pet with you even after they are gone than immortalising them in jewellery? Some pet jewellers can make necklaces that contain your pet's ashes or make a locket with a photo and a paw print.
7. Create a website
If you have some funny or touching stories about your pet, have you thought of making a website for them? WordPress.com offers free templates and you can make a basic website very easily. Pop in a few photos and text and you can share with your friends.
8. Write a letter
Sometimes it just helps to get it out when you are upset. Write a letter to your pet and display it on your wall so if you find yourself missing them, you can remember the good times you had.
9. Create a diamond or gemstone
If you have your pet cremated, you can have the carbon from the ashes made into a diamond or gem – what a wonderful and special way to honour your pet.
10. Donate to an animal rescue group in your pet's name such as RSCPA
Animal shelters would not exist without help from the community. Why not show your support for all they do for animals by donating to them? You can do so here
Have you lost a pet? What did you do to remember them? Tell us about your beloved friend below.
Comments