When you meet Chappy, you'll instantly fall in love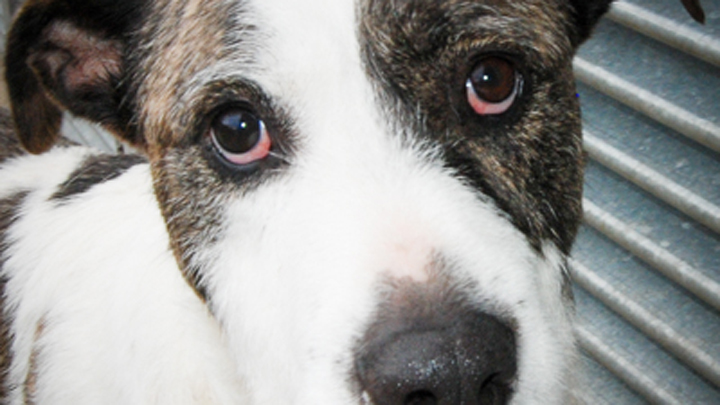 This beautiful dog is looking for a home. Chappy's currently living at the Burwood East RSPCA (Victoria) and we're hoping our Starts at 60 community will reach out and give him some love. Can you help Chappy?
Chappy
ID: 812799
Gender: Male
Age: 7 years
Ad. Article continues below.
Type: Dog
Breed: Irish Wolfhound x Bull Arab
About me:
When you meet Chappy, you'll instantly fall in love. He has such a beautiful temperament and will make a wonderful life companion. Chappy loves a good belly rub and cuddle. He is the sort of pooch who will be waiting at the door when you arrive home. This gentle giant has a huge heart.
Ad. Article continues below.
Chappy is looking forward to spending lots of time with his new family. He may be happy living with a friendly female dog, but he would prefer a home with no cats. Chappy would make an excellent addition to a family with big kids.
Clam, placid Chappy is just waiting for you to come in and give him a pat at RSPCA Burwood East – 3 Burwood Hwy, Burwood East, VIC, 3149. All of our adoption animals are health and behaviour checked, desexed, vaccinated, microchipped, and up to date with flea and worm treatments, which is all included in the adoption fee. Chappy is a senior, so there is no fee to adopt him.
A message from the RSPCA regarding dog adoption:
Matching the right people to the right dog is important to us at the RSPCA, that's why we have an adoption process. Take your time to think about what type of dog you are after, and what type of dog is right for you and your family. Our dogs have been colour coded using our Find A Friend system to give you an indication of the family type that will suit them best.
Once you have spotted that special friend, an adoption assistant will talk to you about that particular dog, its needs, and its background. We will want to know about how the dog will live, so photos of your backyard are a good way of showing us about your lifestyle. We also ask about other family members and pets, and are happy to arrange a meet and greet with you and your existing pets. Above all else, our interest is in the welfare of the dog and making sure that it finds a 'forever home'.
Each shelter will require an adoption application form to be filled, and an additional 24-hour cooling off period can be required to give you the opportunity to ensure you have made the right decision and not adopting on impulse. An interview can be arranged with an adoption officer to ensure that the best possible match has been made after this cooling off period.
Starts at 60 Pets aims to find homes for beautiful abandoned, lost or donated animals. Do you know someone who would love Chappy?