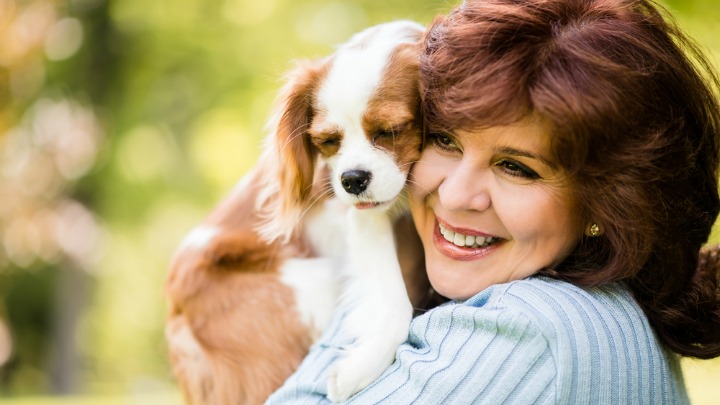 Having pets is one of life's greatest joys. The happiness that animals bring into our lives is really like no other thanks to their unconditional love and their ability to make even the darkest days seem a little bit brighter.
For many people, there comes a time later in life when you start to think about bringing a new pet into the family.
Many people who bought a dog, cat or other animal when their kids were young have had to say goodbye to their beloved pets as the years got the better of them and they passed on.
Once a little time as has passed though, many people begin to think about getting a new pet and staring all over again with another loveable animal.
Getting a pet later in life is a lot different to the first time around though and there is plenty to consider.
Consider adopting an older animal
As cute as they are baby animals require a lot more time and attention than one that is already a few years old – especially dogs and cats! You also have to consider your own age this time; how old will you be when your new pup or kitten is 15 years old? If you get a puppy will you be able to comfortably commit to walking that dog at least once every day when you're in your 70s or 80s? Adopting an older animal means that you can age at a similar pace and commit yourself to giving your all to them. It's also wonderful for the animal themselves as many older cats and dogs are left in shelters unable to find homes while people gravitate towards younger pets instead.
Have a backup cash fund
Owning an animal isn't just an emotional commitment, it's a financial one too. Even if you're adopting an older pet, there are all kinds of costs involved. Vet bills can quickly skyrocket when you least expect it and there's no telling what kind of trouble your pet could get into and when. The little essentials can add up too… Things like bedding, leashes, collars, toys, coats, grooming and food all add up and can come in at a hefty price. Try starting a new account just for your pet and setting a decent sum of cash aside before you bringing them home. Keep topping up that amount every week with a few dollars so you've always got cash there when you need it. Pet insurance is also a great option for those who want assurance that they'll always be covered.
Consider the breed to match your lifestyle
If you're getting a dog, breed is important. It's likely you don't have the same energy you used to (ahh the perils of ageing!) so consider a breed that is happy to take it easy and won't need hours of running around and entertainment to wear it out. Beagles, Cocker Spaniels, Shih Tzus, and Boston Terriers are just a few of the best breeds for people wanting a calm and content pooch to keep them company. Ones to avoid would be cattle dogs, Jack Russels, and Labrador Retrievers – all of which require a lot of time, attention and exercise to keep them happy.
Animal training is a must
Whether you new pet is young or a little older, it's important to train together. It's a great way for you to get to know each other and to establish a little order in the relationship. As much as you love them and shower them with attention, you need to set boundaries and let them know you're in charge in the kindest and best way possible. Check out local training classes in your area commit yourself to finishing a course together. Not only is a great way for you form a relationship with your new pet, it's also the perfect environment for them to socialise with other animals.
Will you be able to do right by the animal?
Most importantly you need to remember that it's not about you; it's about your pet. Every year thousands of animals are returned to shelters across the country after people become overwhelmed with the commitment they've taken on. This only creates confusion and disappointment for the animal and puts extra pressure on the organisations trying to care for them. Think about it carefully before commit. Places like the RSPCA will sometimes allow you to have a trial period for a few days to see if you and the animal are a good match – a great way to avoid disaster down the track.
Got anything else to add to this story? Let us know in the comments!
Comments