What to do when you find out your pet has cancer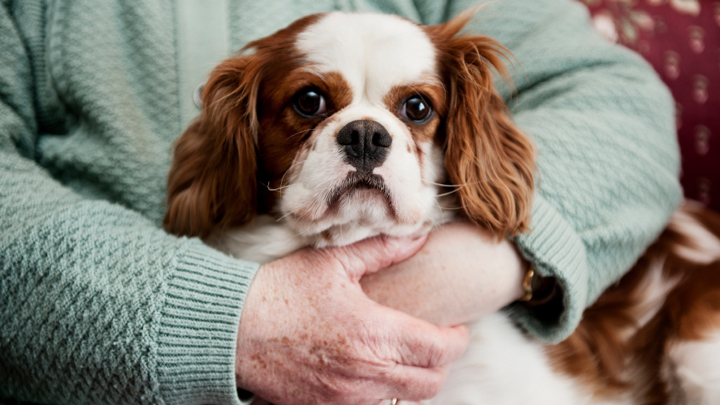 When we find out our pet has cancer, it's some of the most devastating news we'll ever hear. We can feel so helpless.
But you don't have to, as there are many ways you can assist a pet who is suffering from cancer to make them more comfortable.
Give them a balanced diet
As you may be aware, nutritional support is very important for all cancer patients, and is especially true for cats because even minimal cancer-induced stress often makes them disinterested in eating. Cancer cachexia is a form of malnutrition that affects many pets with cancer, particularly those who have widespread cancer in their bodies. Offer your pet flavoursome, highly digestible and energy-dense diets to help prolong their lives. Feed them slowly and don't forget to pet them, hug them, encourage them.
Ad. Article continues below.
Read all you can about your pet's type of cancer
When you receive the horrible diagnosis that your pet has cancer, it can be worthwhile to read up about what the cancer is, to put your mind at ease. Your vet should be able to provide information and what treatment options are available. When doing your own research, try not to get too caught up in statistics. While knowledge is power, don't take it all as gospel.
Learn about treatment options
Ad. Article continues below.
Find out where you can go for treatment and what that process will look like and cost, as not every vet clinic can offer quality cancer care. You may need to work with an oncologist, a veterinary surgeon or a veterinary radiation facility in order to pursue the treatment option you want. Research treatment and facilities that provide is so you get the best price and result for your pet.
Be open to all the options available
Aside from traditional veterinarians, there are many complementary and alternative cancer approaches that can be very beneficial to your pet. Some of the most commonly used include acupunture, herbal remedies and homeopathy.
Ad. Article continues below.
Trust your instincts and what you know about your pet
You are your pet's owner and ultimately, you know more about your pet than anyone else. Of course, a vet's opinion is very valued but if you eel that your pet will not survive treatment, then you can make that decision. It's okay because there is no one right path and there are no guarantees. All you can do is follow your heart.
Talk to other pet owners who have been through it before
Although you may want to tackle this on your own, you shouldn't have to suffer through the heartbreak of a pet's cancer diagnosis. Find peers online or in your social circle who may have been through the same thing, and learn from them.
Ad. Article continues below.
Resources
Pet WebMD – Dogs and cancer facts
Ad. Article continues below.
At the end of the day, pets are blessed that they do not dwell on their illnesses and do not feel their impending death. This means they face death peacefully and we can rest easy knowing that a pet will be happy and comfortable as long as it has good food, a loving home and company. If you are sad, they will be sad – if you are at peace, they will be at peace too.