What should you do when nobody wants your family heirlooms?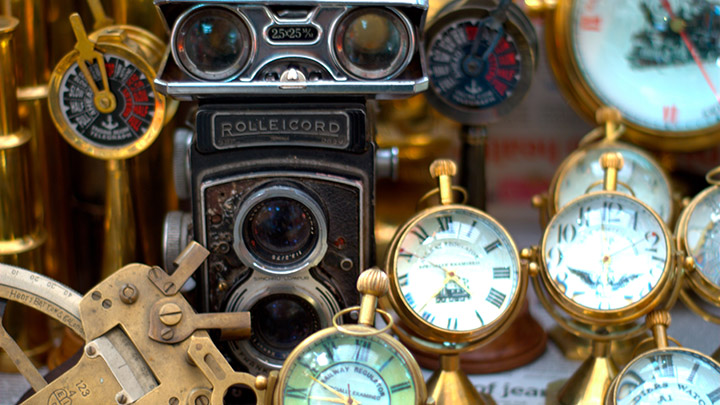 Over the last two years my family has led the charge in completely cleaning out and downsizing two homes of relatives. They sadly had aged to a point where they could no longer be responsible for their households and left us to lead the charge in sorting everything out. While they had set out some heirlooms to be passed on to specific people, family and friends, the majority of it hadn't. Things like the beautiful silky oak dining table were snapped up in a hurry, however things like the silver teapot, trays and kitchenware were left unwanted. We were able to sell two incredibly beautiful timber wardrobes to an antique dealer in France for a small fortune (all of which went to the original owner!) but it was so sad to think that there were items like these that had been in the family for over a century, yet no one wanted to claim them.
"Stuff" is becoming less important to the lives of young people. Possessions worth caring for are often complete with a charging cord and memory card. So when we have these beautiful items that are going homeless, what can we do with them to make sure they're respected or appreciated somewhere else?
In our family, we were lucky to have other friends who'd already done something similar, so they gave us incredible advice  on how to disperse it all. Today, I'm sharing that advice to you, because I hope that it can help so many people to make decisions about their own belongings or their own family's. Tell us, have you said goodbye to incredible family heirlooms? What did you do with them?
Perhaps the first question to ask, is do you want financial gain from the heirlooms? If no, then donating the items to a charity would not only help other people, but also leave you feeling good. You might have your own charity or cause in mind, if not there are always treasured institutions such as St Vincent de Paul and Lifeline. If your item isn't suitable for a charity to sell, you could sell it yourself, and pass the proceeds to a charity as another option.
Ad. Article continues below.
If you do decide that selling is the way to go, it has never been easier than in the digital world of today. Sites such as eBay and Gumtree are the classified ad marketplaces of the 21st Century. Visit the sites to see how other people go about marketing their goods for sale.
If you do decide to sell the goods online, be sure to include clear photographs of the items, and a detailed description. Be sure also to check out how much the site is charging – is it a flat rate, or a percentage of the sale?
Should it come about that the exchange of items and cash is to be made in person, be mindful too of your own security. Perhaps you'd rather not have strangers at your house alone, invite friends around, so that you're not alone come meeting time. Not comfortable with strangers having your address? Plan to meet at a public place.
If you suspect the items in question are of some value, contact an auction house, and have them appraised; you can even have them market and sell the heirloom for you. You should also seek advice on whether any additional insurance needs should be sought, in case the item isn't sufficiently covered by your existing home contents insurance.
Lastly, deciding what to do with heirlooms can also be an emotional time, don't act in haste; you could always place the items in secure storage and take some more time to make your decisions.
Tell us, have you said goodbye to your family heirlooms? What have you parted with and what did you do with them?