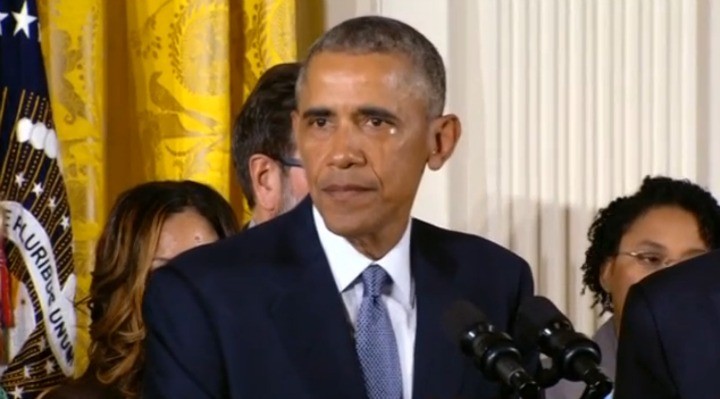 US President Barack Obama has revealed his toughest day in office was the December 2012 massacre of twenty children, at an elementary school in Connecticut. Obama openly wept when addressing the White House on this topic overnight – pleading with the American people to embrace proper gun control.
Twenty children and six adults lost their lives when a gunman opened fire at Sandy Hook elementary school, with some victims aged just five years old. Looking back, President Obama said "that changed me, that day". Before adding, "my hope earnestly has been that it would change the country".
Despite the tragic circumstances, Congress could not be convinced to toughen US gun laws back in 2012. Now in his last year as president, Obama does not believe that change will happen anytime soon. He believes Americans need to be "just as passionate" about reforms, as pro-gun groups like the National Rifle Association are about arms-bearing.
After shedding tears at the White House overnight, Mr Obama's voice rose to a yell. He stated that the constitutional right of Americans to bear arms, needed to be balanced by the right to gather peacefully and live safely.
The President has previously praised Australian gun laws, which were swiftly addressed after the 1996 Port Arthur massacre. He mentioned how Australia does not struggle with gun violence, "so we know there are ways to prevent it (in America)".
"We know that other countries in response to one mass shooting have managed to craft laws that almost eliminate mass shootings", Obama recently said. "Friends of ours, allies of ours, Great Britain, Australia, countries like ours". Unfortunately, it remains to be seen if change will occur throughout America.
Do you think America should follow Australia's example when dealing with gun laws? Watch Obama's speech, and share your thoughts below:
Comments