What happens to the "girls' night" in your 60s?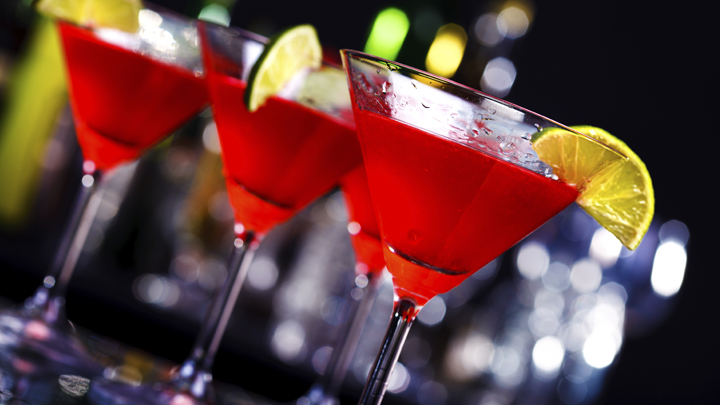 In your 20s, what did you do for fun with your girlfriends? If you were anything like most of the women I know (myself included), you were probably out late at night, drinking cocktails and dancing the night away. You were (mostly) single and you had hours of fun and many late nights.
Then we moved into our 30s and 40s…this was a time when we were consumed with our marriages and then the kids. Our "girls' nights" were reduced to nights in with a bottle (or two) of wine and some home cooked food while the kids played or were possibly back at home with the husbands. We had mortgages and bills to worry about plus the school fees to pay so everything was done on a budget but never stopped being a lot of fun.
This stage lasted for quite a while, until we all turned 50. This was when the kids began to grow up and have their own independence, we weren't so financially tight and we had a little bit more time. So, the only logical answer was to leave the menfolk at home and start going out for dinner with our girlfriends to our favourite local restaurants.
And now that we're 60, what do we do? What has happened to the girls' night?
Well, I believe that right now we're at the best time in our lives. Why? Because we don't have the things holding us back like we did in our 20s, 30s, 40s or even 50s. We have freedom, we have flexibility and for some of us, we are more financially secure. So what is the girls' night right now?
Ad. Article continues below.
The girls' night of your 60s is a combination of everything. We called out to a few women and asked them to tell us about their own experiences of keeping the girls' night alive into your 60s and here is what they said…
"I love my girls' nights. I still catch up with my friends from high school – 45 years on! We have a great time and since we turned 58, we've done something a little different and turned our girls' night into a girls weekend! We find somewhere either inland or along the coast and run away without our partners or husbands. Some may call us selfish but we have a lot of fun and after 45 years of friendship and putting up with each other it is nice to treat ourselves too" – Anne
"Although our partying days are older I still have a lot of fun with my friends. A few are on pensions and have to live a little frugally, but we make the most of it by taking turns to hold a "pot luck" night and everyone BYOs drinks. There are six of us in our group and we have our dinners fortnightly – always a lot of fun!" – Caroline
"My closest friends and I met when we were all young mothers with children in primary school. We've been friends for a long time and although we all have busy lives as most of us are still working at least part time, we do our best to catch up once a month. We love a bit of adventure and a couple of the ladies are single so we find something new to try each month. We've been to open air cinemas, we've tried Latin dancing and most recently we even went to a trampoline centre! It sounds silly but we always have so much fun" – Trish
These three women have proven that the girls' night is still alive and well into your 60s… it just looks a little different. In fact, it doesn't have a stereotypical look at all like your 20s, 30s, 40s or 50s. It can be anything you want.
So today tell us, what is your "girls' night" now? What has it been in the past and what does it look like now? Share your thoughts in the comments below…