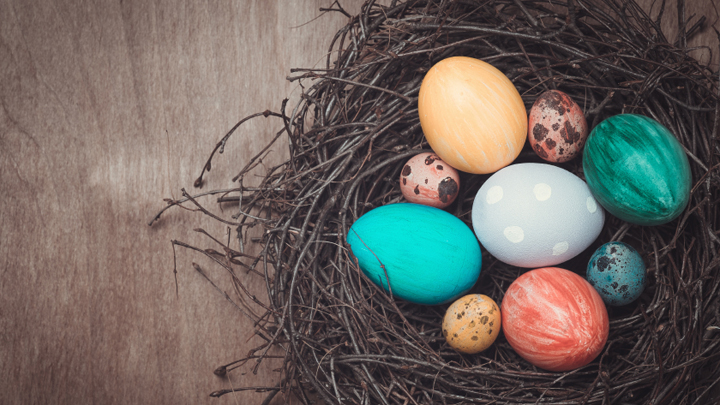 It's just about Easter and in my household, the grandies have started to arrive. The lucky things – they got off school a few days early. We live in a seaside town about three hours away from most of our 7 grandchildren and Easter is the best time of the year.
At Christmas, it's hard to get all the kids together as they go to their other family's celebrations. But Easter, that's my time to get the kids together. My daughter comes up a few days early with her bub and we make up the Easter basket and put little flour paw prints around the house the night before. Yesterday the grandkids and I painted eggs and coloured in some colouring-in sheets I printed off the internet. I love getting crafty with them and they teach me so much. Those are the littlies, but it's my teenage and young adult grandchildren who really expand my mind.
When I was young, Easter was exciting too. We would have the Easter bonnet parade at school and mum would hide some eggs around the yard for my brothers and I. We would get one bigger egg each on Easter Sunday and we'd giggle as we got the chocolate all over our faces. And those creepy bunnies! Do you remember getting a photo taken with a scary Easter bunny when you were a child?
I had dinner with the grandkids last night and I was thinking how times have changed and how our grandkids remind us that. When I was a kid, we weren't allowed to leave the table without being excused, but now half my grandkids sit there on their phones! I tell them to get off for a bit but still, they peer over at it. It feels like yesterday my own grandmother was smacking me on the wrist for not closing my mouth while I ate. Kids these days are so intelligent and thirsty for information. My grandchildren and I have debates about politics, climate change, poverty; so many things. My parents would block me out of those conversations or just not have them at all. Oh, how the world is changing.
Ad. Article continues below.
I always look forward to Easter and spend weeks and days before getting everything organised. I even get out the special Easter bunny quilts I made about 15 years ago! My eldest grandchildren still ask for them to be put on their beds. I can't really explain what it is about Easter that makes me so delighted – it's everything. I'm like a kid at Christmas except it's April!
I wonder if in years to come, the Easter tradition will continue. My grandson went to Colombia last year and he said that there was barely anything to suggest it was Easter, despite it being a devout Catholic country. I'd hate to live in that world! Easter is bright, beautiful and happy.
What does Easter mean to you?