What a champion! Watch Bailey defy the odds to complete first triathalon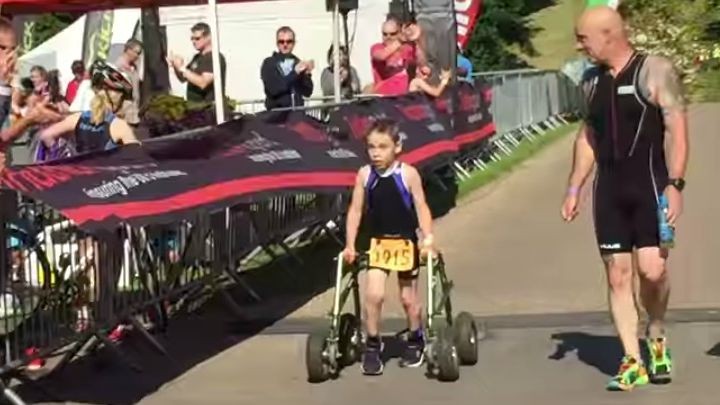 He may only be 8-years-old but Bailey Matthews is a champion and a hero to people living with cerebral palsy everywhere. The young lad from Nottinghamshire in England pushed aside the small matter of his condition and competed in the gruelling race, which comprised a 100-metre swim, 4 kilometre bike ride and 1.3 kilometre run.
For the last leg of the race, Bailey used a cleverly adapted walking frame but was otherwise unassisted throughout the race.
Watch below as he nears the finishing line – the grin on his face is sensational as the crowd cheers him on. 20 metres from the end he ditches the frame then falls not once, but three times.
But Bailey gets to the finishing line and is still standing proud when his dad succumbs to his emotions and pulls him tight in a bear hug.
Bailey's mother Julie Hardcastle told the Yorkshire Post, "You can see his little face when he came round and saw everyone, that was his way of finishing in style and showing everyone what he could do. It was the response from the crowd that pushed him to do that".
Ad. Article continues below.
Matthews was born nine weeks early and at 18 months was diagnosed with cerebral palsy, a neurological disorder that affects muscle tone, movement and motor skills.
"He has always struggled with getting dressed, things that parents of other children take for granted, he does struggle with, just every day things are more difficult for him, but he never lets it bother him," said Ms Hardcastle.
"He doesn't see himself as different to anyone else."
The video was posted on a local news station's Facebook page yesterday and has been watched close to 20 million times.
Ad. Article continues below.
One commenter sums up the impact of Bailey's brave attitude:
"Bailey you little beauty my 2 year old daughter has cerebral palsy you have no idea how much you have just filled my heart with hope and love……I know first hand how hard that must have been for you and me and Ava-Jean (my daughter) want to say a huge thank you for being such a beautiful little inspiration WELL DONE BAILEY !! Xxx"
What a little champion! Share your thoughts on his achievement below.