We need your help! Could you get more involved with Starts at 60?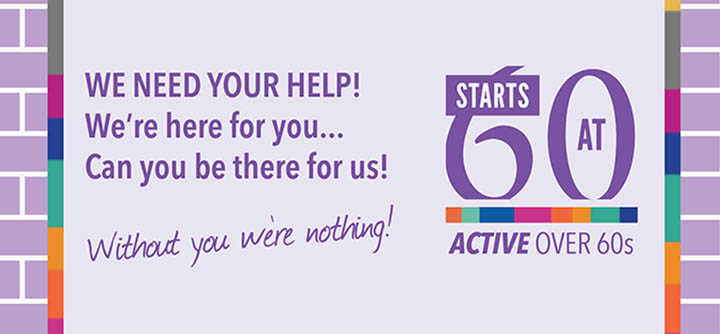 When I started Starts at 60, back in 2013, I did so because I didn't think the media was giving a voice or a truly respectful service to over 60s. Two and a half years on, we've grown to become everything I dreamed of and more. We're a giant community online of over 60s who care for and share thoughts, interests and ideas with each other. People have joined in their own time, and whether you have been with us for two years or two days, you need to know how special you are to us.
We are a place where you can get involved, have a voice, and enjoy the conversations of others who have seen the world evolve from a similar perspective to you. The enormous diversity of people is what makes the site so much fun! Over 650,000 people visit Starts at 60 every month, from Australia, New Zealand and a smattering of other countries and we are overjoyed to be here every day. But what is more important is that you come here every day for each other, and input your ideas and opinions.
Starts at 60 has evolved into "your place" and for that we are honoured. And now we want to invite you to take up a bigger opportunity to make our place even more special.
What can you do?
Share and comment on our articles on Facebook and on the website. The power of the internet comes from "People Power", and for that we rely on you to spread our articles and pictures throughout the web. If you comment on and share an article, Facebook sends it to more people. And then more people comment and share it. The internet world is a wonderful thing and you have all the power. Please use it generously.
Ad. Article continues below.
Join in the discussion. People come to our site to read the articles, but more than that, they come to talk about what people are saying about the big subjects of the day. You'd be entertained to hear how many people come to Starts at 60 "for the comments" so please don't disappoint them by not leaving any. We love that you talk, and we spend our day finding relevant talkable topics for you.
Tip us off on a story. If you see something, or have something happen to you that you think we should be covering, fire us off a quick email or Facebook message. Our team is always checking the [email protected] inbox and we reply quickly. You might find your topic makes it up on the News Desk, and gets coverage… We love your help!
Write for us. We'd love you to write for us, and you don't need to be a professional writer. Community writers are voices we live for! Do you have a hobby, club, social group, movie or theatre review, real life story, travel log or even collection of pet photos to share? Do you love gardening? Do you have some great grandparenting stories? Or even stories of heartbreak? Perhaps a funny tale or two? We want to hear about it. Starts at 60 needs more community correspondents to spread the word of Starts at 60 and get more and more over 60s to become a part of the active over 60 movement. Click here to find out more.
Host an event/go to an event. Every month, Starts at 60 hosts coffee meetups in every major capital city in Australia. If you'd like to host an event at your local coffee shop, you can sign up here. Or to see the events and go along, check out the link here. These events give you a chance to meet others in the community and make new friends.
Ad. Article continues below.
Spread some word of mouth. We hope you can call us your "special place" on the internet… that is what we work hard to be every single day. And we'd love it if you told your friends, near and far about us! If you know someone who hasn't yet liked us on Facebook, signed up for our newsletter or read our articles, tell them about us! We'll all be grateful – us and them we hope!
Find your inner food blogger and send in your recipes. Recipes you are cooking are something we love to feature, and to do so we need you to send them in. We'd prefer a home-baked picture than a professional one, so whenever you are cooking something yummy, a cake or a pudding, a great salad or something gooey, take a snap or two, type the recipe up and email it to us. We'll credit you and share it with others on Starts at 60. It might even "go viral".
Send us a message/your feedback – if you ever want to have a chat, message or email us! We are here 7 days a week, and most hours of the day (that's how much we love you). We are always happy to hear your feedback and remember: we're here to service you. If you see something that bothers you, we are all ears.
Starts at 60 is for you: and without you, we cannot exist!
What do you like most about Starts at 60? How did you find us? Tell us how you'll get involved and don't forget to like this!
Warm regards,
Rebecca and the Starts at 60 team (Emma, Jo, Brett, Alastair, Briana, Kate, Mikael, Darren, Karen, Siobhan).