We did it but our grandkids might never get the chance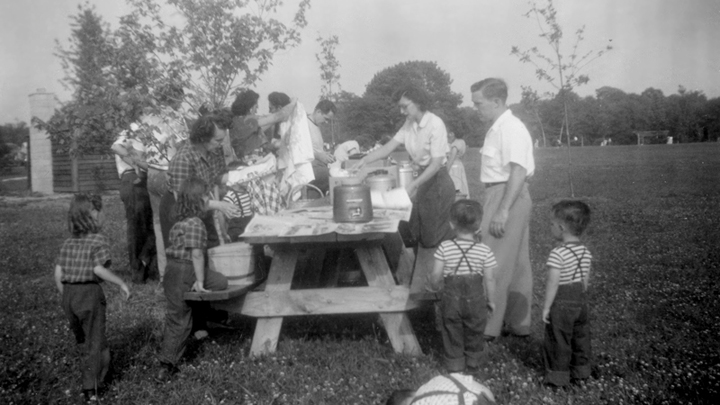 Every Sunday night my family would have dinner. I use the term family loosely. By "family" I really mean our five immediate family members, our cousins, our aunties and uncles, the grandparents, the neighbours some of our school friends, even the priest and any passers by or people dropping in "because they were in the neighbourhood".
It wasn't a fancy dinner, it was a barbeque in summer, a crock pot in winter or whatever Mum and Dad felt like putting together, but it was every Sunday. We ate dinner as a family, at a table, every night, but Sunday was special. It was a tradition.
On Sunday afternoon I asked our Facebook community, "Did you once do Sunday lunch or dinner with your family? Was it a weekend tradition or ritual in your childhood?" And over 200 of you responded saying yes. So many of us had a Sunday lunch or dinner tradition. For some, like me, it was the whole world, for others it was just the immediate family. For some it was casual and an "anything goes" type of affair whereas for others it was a formal roast. Regardless of how we did it, we all did it. But it seems as though the traditional family lunch or dinner has completely been lost. And what is more saddening is that nothing has replaced it.
Earlier that Sunday I had asked, "what are you up to today?" and the replies were varied but none said anything about a family lunch or dinner. This made me realise that the family time we all once held sacred really is gone.
Last week when I was babysitting the grandkids, my grandson had a little whinge while we sat around the dinner table to eat. He said that during the day the teacher had asked the class of 27 students, how many eat as a family at the dining table each night. Only three students put up their hands and he was one of them. He was annoyed because he wanted to sit in front of the TV while he ate like most of his friends.
Ad. Article continues below.
This isn't a big family dinner, it isn't a formal family dinner it is quite simply, just a weeknight dinner where you eat with your family and catch up on the days news. It helped relationships to form between siblings and their parents. It helped us to communicate, to be honest and to listen. It helped us to bond and form a family relationship.
But very few families do that anymore and I have to ask, what is the real, social cost of losing this tradition?
Is this why distance is being created between immediate family members and their relatives including grandparents? Is this why younger generations are becoming more and more removed from the social etiquette norms we know? Is this why people are struggling to have empathy in the world and look at things from other people's views?
It seems trivial, saying that eating dinner with family and friends on a regular ongoing basis is this important. But I think the lack of true communication and connection people have these days on a personal, honest level is starting to cause bigger problems than we care to realise.
It makes me sad, because all of the memories I have from those big Sunday family dinners are some of my favourite. They really were some of my favourite family times throughout my life. But my grandkids will never understand let alone experience what that kind of celebration is like and the way the world is going, they probably will never get the chance.
Tell me, do you agree? Do you see this happening in your own family? Share your thoughts in the comments below…