Want to retire to a Greek Island?
Ever since I was 21 and backpacked through Greece, the dream of all dreams I have ever had is that I would like to go back there when I retire.  Well folks, now you can do one better, and buy yourself a Greek Island to retire on!  There are fire sales it seems in the Greek ocean at the moment, thanks to the Greek Debt Crisis, and some of the prices that are being offered will amaze you enough to raise more than half an eyebrow.
Greece has more than 6000 islands but only 227 of them are inhabited by people.  And with their magical paradise like environment of electric blue waters and clear blue skies the relaxed lifestyle for which Greece is now famous can be yours.  In fact, I can feel a siesta coming on.
YourPrivateIsland.com and vladi-private-islands.de have featured a selection of islands today in their property site.  Take a look below for some of the highlights and get your retirement dreams ready.
St. Athanasios Island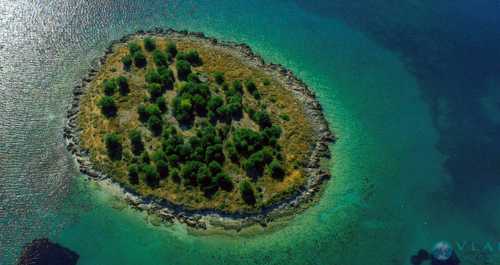 The beautiful island of St. Athanasios lies in the Gulf of Corinth, 1.5 miles from the city of Itea and a short distance from Delphi, the skiing resort of Parnassos and the historic port of Galaxidi. The vegetation on this small, private island of 10,811 m2 includes some pine and olive trees and there is a small sandy beach along the northwestern coast. The surroundings are natural and quiet and the seawater lapping the shores is crystal-clear and rich in sea life. The island has an unencumbered, full and unrestricted freehold title, as well as indispensable supporting documents from various public authorities.
It is an ideal place, offering calm and unique natural living conditions that could be combined with a modern and comfortable residence. St. Athanasios is suitable for the development of a private villa, cottage or permanent residence.
Isle of Gaia
Ad. Article continues below.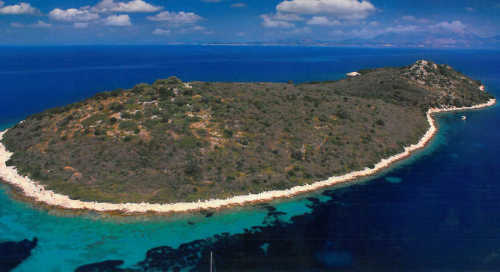 The coveted Isle of Gaia has finally become available for purchase. Touted as the perfect millionaires' playground, Gaia is an idyllic paradise surrounded by the calm crystal clear waters of the Ionian Sea.
Ad. Article continues below.
These storied waters are protected by north-eastern winds and the region is marvellous for water sports, sailing, fishing, deep sea diving and swimming. A picture perfect paradise that you can own.
The island is 43 acres (17.5 Ha) in size with approval to build 6 villas and permission to subdivide into 6 plots. The Isle of Gaia has clear ownership papers – a clean company owned Island.
This beautiful Island is part of the Echinades, which is among the Ionian Island group. The Ionian Islands are a small group of islands just off the western Greek seaboard.
Little Lesbos
Ad. Article continues below.

A private island off the coast of one of the most beautiful islands in the Mediterranean is now being offered for the first time for sale. This private island is located off the Greek island of Lesbos, just north of the island's capital city of Mytilini. A building permit is currently not available.
Ad. Article continues below.
The island is located about 10 minutes by car from the city of Mytilini, close to the waterfront, about 200 metres opposite the small village of Pamfila. The waters surrounding the island are clear and tranquil. The island itself offers a rich plant life and small coves along the southwest coastline.
Note, this island is apparently not suitable to inhabit, but could have commercial uses.  It says, price on application, but Domain.com reports it at $1,181,763 as a pricetag.
Nissos Sofia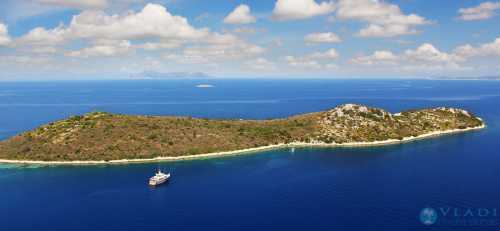 Situated in the glistening waters of the Ionian Sea, Nissos Sofia is a beautiful 43.5 acre undeveloped private island within Greece's popular Echinades Island Group. The island enjoys an enviable location within a RAMSAR designated National Park and therefore ensures a high level of privacy, peace and tranquility for future residents.
Boasting a lush grounds which gently slopes down towards a long stretch of shoreline, Sofia is very much the archetypal Greek island – covered with ample vegetation and surrounded by crystalline waters, the Ionian island landscape is simply breath-taking. It's no wonder that prominent businessmen from Russia and Qatar are so keen to invest in the region.
Whilst currently forming something of a blank canvas, Nissos Sofia offers a great deal of potential for development. Indeed, an official archeological report has already been created and an application for permission to build 6 homes with 80 sqm each has already been submitted to the relevant authorities and is pending approval.
Further to the aforementioned building application, clear and marketable title deeds are also available, as well as a pre-due diligence report confirming both the island's land classification as agricultural (and buildable) and its absence of areas of archeological interest. The island is therefore readily available for transfer.  It is reportedly priced at $4,000,000EUR.
Ad. Article continues below.
Trinity Island
Ad. Article continues below.
This idyllic Greek island, located close to Athens, boasts a colourful past. It has been owned by the family of the former Keeper of the Royal Privy Purse of the three Kings of Greece since 1958. It has a certain celebrity appeal, as Winston Churchill and the Beatles are among those to have been entertained as guests on this beautiful Greek hideaway. It is ideally located in the southern gulf of Euboea (Evia) and can be reached easily within 1.5 hours from Athens by car and in just 10 minutes from Athens by helicopter, yet the hideaway offers total privacy.
Trinity Island is mostly flat, with a lavish abundance both ornamental and crop vegetation, including about 350 olive trees, pistachio trees, pine and cypress forests and a variety of fruit trees (pomegranate, apricot, peach, almond, fig). Among the ornamental shrubs to be found on this Greek island are oleander and hibiscus.
Can you see yourself lying back on a hammock enjoying the blue sky and sea of Greece in retirement?  Why not buy a lotto ticket for tonight.