Want to be a Starts at 60 Community Correspondent?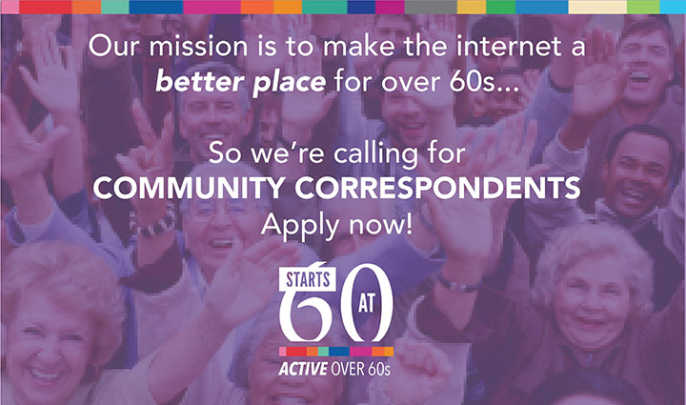 Have you ever wondered whether you could play a bigger role in Starts at 60, writing regularly or occasionally?  Well, we're inviting you to apply today to become one of our Community Correspondents (or bloggers, writing for us as often as you would like).  We are growing quickly here and need your help to grow the largest voice of over 60s in Australia and New Zealand. *If you've from further afield – we would love to get to know you too*.
How can you get involved? You can:
1) Become a Starts at 60 Community Correspondent and tell the stories from your local communities and organisations.  Whether attending the Gympie Muster, Knitting for Nanas, or sharing the stories of the crew at a local men's shed, we want more local stories, and we want you to tell them from your own perspective.  We're calling for local community correspondents to tell personal, local, community and lifestyle stories from the perspectives of being sixty and getting the most out of life.  You might even want to send us awesome short videos of the terrific over 60s you meet.
2) Become a Starts at 60 Blogger and tell first person stories, share experiences and invite others to debate with you on current affairs, and other such personal perspectives.
3) Look for stories, tips and ideas and send them to us regularly to tip us off on ideas of interest to over 60s of enormous diversity.
Ad. Article continues below.
You might be a someone with a story to tell who has never written before but would love to, a retired journalist, a blogger who loves to write, a person with passionate political insight or someone who loves their crafts, hobbies or community enormously.  All of these things qualify you for this role.  Our editors will help you polish
It's not a paid role, but writing for or contributing to the largest voice of over 60s in Australia and New Zealand is a rewarding one.  With more than 2.4 million page views last month our website is the most active discussion media for over 60s in the south Pacific (and we hope it will just keep growing).
So, if you think this is of interest, we want to hear from you.
Please fill out the form below and we'll be in touch!
Warm regards
Ad. Article continues below.
Rebecca Wilson
Founder of Starts at 60 – The largest independent voice of over 60s in Australia and New Zealand



—-