Two horses have died for the sake of entertainment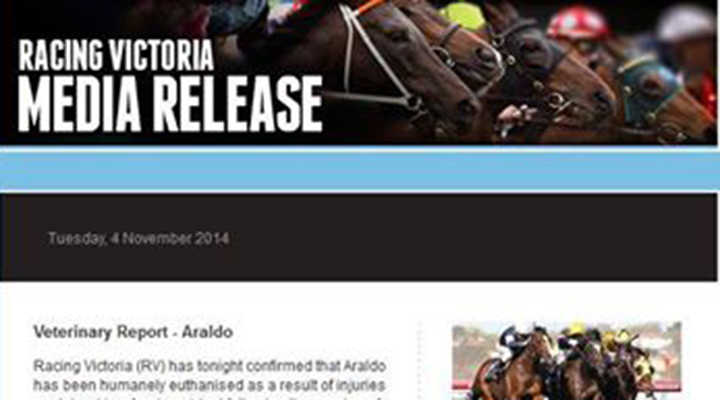 Another Melbourne Cup has gone by, and my Facebook wall is full of pictures of people who have had a delightful day of dressing up, dining out and enjoying themselves.  Meanwhile, two horses are dead, all in the name of entertainment.  It's heartbreaking that we can look back at this race, and see three of the world's best racing horses over two years become memories and go on without change?  Or is it?  If it was a person who had died, just one of them, we would be launching enquiries, investigations and seeking out change.  But if we are dealing with horses, we all hold our heads to the side, feel a little sad, then move on.
In the last few hours, Racing Victoria has confirmed that Araldo has been humanely euthanised this evening following the freak accident after the race that saw him break a leg after being spooked by a fan waving a flag.  And this is on top of the favourite today Admire Ratki who died in the stall immediately after the race.
I for one feel saddened that a day that has brought so many people so much joy has this much impact on the sporting competitors.  And that's what they are… competitors.  If there had been two deaths in the Surf Lifesaving championship, or the AFL Grand Final, imagine the furore.
It was only a year ago, just after Fiorente won the 2013 Melbourne Cup that French horse Verema was euthanised after breaking a bone in her leg.  Apparently this is an acceptable part of horse racing.  Until today, after this littering of bad news, I guess I had never stopped to think about it.
The horses can be sacrificial, if the people are entertained. Is this how we look at it or is it time for more thought?  Now I'm no activist, just a realist that likes to think through both sides of a topic and find out what everyone else thinks… So I ask you today to share your thoughts.
Ad. Article continues below.
These horses are the best in the world, worth well more than a million dollars each going into the race apparently.  If they win, the prize on Melbourne Cup day is $6.2 Million plus a lifetime of premier breeding rights. Surely their owners have more at stake than a one in 24 chance of death, which odds are stacking up as in the last two years.
Animal rights activist groups have come out fighting against cruelty to horses, saying the industry has no mercy for these animals after they have finished providing their entertainment.
And Twitter feeds are full of a wide variety of opinions. Fact is, we know people won't stop horse racing, there is too much money at stake, but is there learnings from today, and the death of three racehorses in two years in our biggest race? Or is it just part of the sport?
Share your thoughts today…
Ad. Article continues below.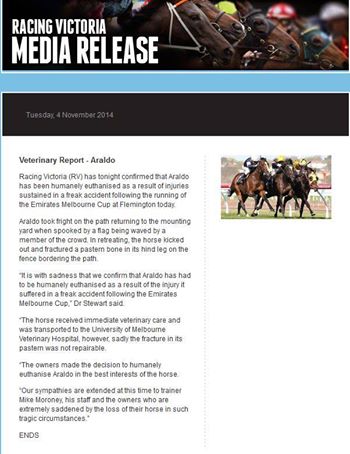 Before the race this hopeful tweet went out about the Caulfield Cup winner Admire Ratki.
Can Admire Rakti complete the #CaulfieldCup #MelbourneCup double today @FlemingtonVRC? pic.twitter.com/PBvvgZ1wWr

— MelbourneRacingClub (@MRCTrackNews) November 4, 2014
A horse died after the Melbourne Cup race due to a stress related heart attack, now people are saying that Horse racing is animal cruelty… — Mitch (@Conky_nV) November 4, 2014
Ad. Article continues below.
All these tweets about racehorses dying aren't me calling for horseracing to be banned; only to be conscious about the unavoidable cruelty

— Lew (@LewSOS) November 4, 2014