Twin sisters still cracking each other up after 90 years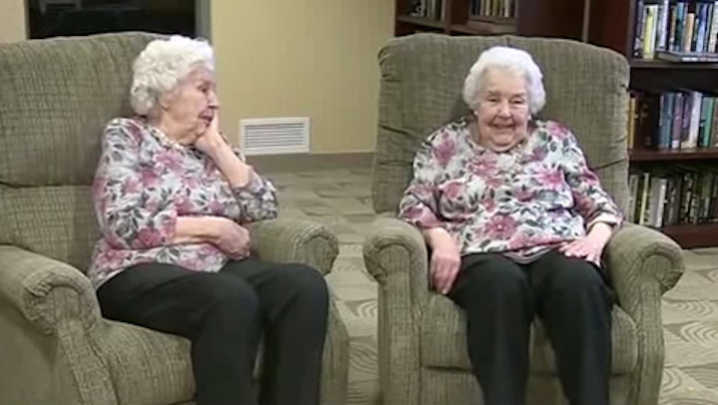 You may think that you're close with your siblings, but take a look at this pair.
Identical twin sisters Helen Bayes and Lucille England celebrated their 90th birthdays last Sunday. The duo who have been very close since birth were surrounded by family members at their party in Detroit.
The siblings, who have been wearing matching outfits since childhood, wore matching outfits again to mark the occasion.
The women cheekily recounted tales at the party of getting into mischief with one another. From constantly pranking friends and family to getting in trouble at their first job, working side-by-side as telephone operators, the sisters have been agents of mischief their whole lives.
Ad. Article continues below.
Having each made a family of their own, the women's antics throughout their lives have become a part of the family legend. Daughter Linda Wade recounts how the two engage with one another, both now and in the past.
"They play off each other," Linda told The Huffington Post. "They will sit on the couch and talk for hours, just whispering back and forth and no one can hear but them".
She said her mother and aunt had been blessed with great health, but also thrive because of their senses of humour.
"I think that really keeps them going," she said.
The women don't just attribute their longevity to each other's company, but also put it down to strong healthy marriages as well.
Ad. Article continues below.
"Their mum and dad always thought they were princesses, and then when they got married, their husbands treated them like princesses," Wade said. "Their husbands were very good to them. My dad passed away three years ago in April, but everyone used to marvel at how he used to take care of her. My uncle now does the same thing for both of them".
Perhaps having someone close your whole life is the key to longevity? Whatever it is, we here at Starts at 60 wish Helen and Lucille all the best for the years to come, as well as a big happy birthday!
Do you have a sibling that you get up to no good with? Do you think a close companion can keep you going on in your later years? Let us know in the comments below.